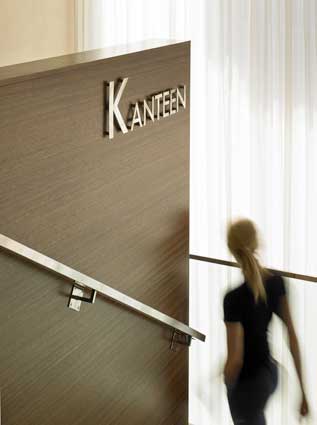 Kanteen, located in trendy K West Hotel & Spa, has recently introduced a fabulous new 'Saints & Sinners" menu. This offers a choice of both indulgent and super-healthy dishes. When dining, it is totally up to guests to decide whether they want to be a Saint or a Sinner!
Head Chef, Sylvan Chevereau has created a two-sided menu offering innovative Modern British dishes. Born in Mauritius, and using his culinary experience from Michelin starred restaurants across France, Sylvan's traditional British dishes are complemented with Asian and European influences.
The 'Sinners" side of the menu includes: Sinful Starters such as Homemade chicken liver parfait with celeriac remoulade & rye toast (£6); Devilish Light Bites including a Minute steak sandwich with tender British minute steak and soft red onions in a fresh baguette with chunky chipped potatoes (£12); and Mischievous Main Plates offering Braised pork belly with sweet potato mash, bok choi and a Chinese five spice glaze (£14).
For health conscious guests, the 'Saints" menu offers: Angelic Appetisers such as Baked Portobello mushrooms with rocket, broccoli and apricot pesto (£6); Saintly Salads where guests are invited to create their very own salad from a list of the healthiest ingredients (£11.50); and Virtuous Victuals which include dishes such as a Seared salmon fillet with warm pearl barley and Mediterranean vegetables (£13).
For the perfect balance of a nutritional and pleasurable dining experience, dishes can be ordered from both the Saints and the Sinners menus.
Designed by Noel Pierce of PDI, Kanteen has a cool, chic style with luxurious leather seating in rich blues and reds, against dark wood, stainless steel and glass. The Saints & Sinners menu complements K West's contemporary design.
Open from 7am until 11am for breakfast; noon until 3pm for lunch; and 6pm until 11pm for dinner, the 50-seat restaurant is a stylish location to dine throughout the day and evening.
K Lounge is the perfect place to relax and enjoy a pre or post dinner cocktail and is an ideal spot for people watching. On Friday and Saturday nights both hotel residents and outside guests can enjoy the cool sounds of K Lounge's DJ from 10pm until 2am.
Kanteen, K West Hotel & Spa, Richmond Way, London W14 0AX
For reservations, please call: 020 8008 6600 or visit www.k-west.co.uk