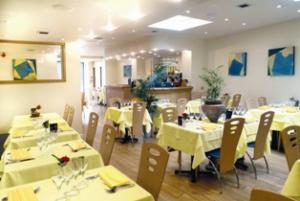 Kasturi, the award winning restaurant at the heart of the city of London has arranged a Fish Festival which will run from the 1st September to the 15th October 2009.
Chef Rajendra Balmiki and Owner Bashir Ahmed are apparently 'cooking up a storm there'. The special menu will feature dishes such as the Crab Kebab (North-East Atlantic spicy ground crab cakes with coriander, mint, mustard and ginger), Salmon Tikka (Loch Fyne Scottish salmon, marinated with spices and fresh herbs, char- grilled in a traditional clay oven) and mouth-watering Sea Food Biriyani (Chef Raj's unique innovation, using prawns, king prawn, octopus, mussels & white fish, served with chilled raitha) to name but a few.
Diners can also enjoy an eclectic range of exotic beverages including Mango Lassi and Fresh Coconut water.
This alternative Indian cuisine, namely Seafood with an Indian twist, is sure to go down a treat with food lovers and diners alike.
57 Aldgate High Street, London EC3N 1A
Tel: 020 7480 7402 / 7481 0048
Fax: 020 7702 0256