English Wine Week runs this year from May 23-31. In celebration, Kettner's in Soho is offering a special selection of English wines for the week both by the bottle and the glass, giving guests an opportunity to discover why English vintners have got the more established producers in France quaking in their boots.
The wines on offer at Kettner's for the duration of English Wine Week are: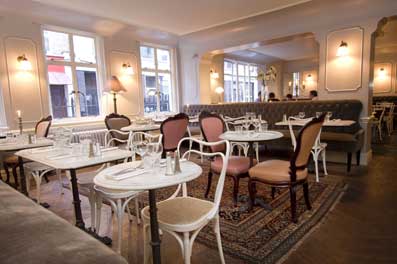 Three Choirs Premium Selection, 2007, Gloucestershire
Seyval Blanc, Reichensteiner, Müller-Thurgau
£21/£5.50
Flint Valley NV, Dorking, Surry
Reichensteiner, Seyval Blanc
£21/£5.50
Dart Valley Reserve 2007, Sharpham Estate, Devon
Madeleine Angevine, Phoenix, Orion, Bacchus
£28/£7.25
Nyetimber Classic Cuvée
£62/£11.75

In addition, Kettner's is also offering a glass of Nyetimber sparkling wine paired with half a dozen English oysters for just £19.50.
Three Choirs Premium Selection 2007 is produced from a blend of five different white grapes in a unique micro-climate sheltered by the Malverns and Brecon Beacons. It is dry and fruity with flavours of peach and grapefruit with just a hint of spice. Three Choirs Vineyard is the one of England's older vineyards, the first vintage having been produced in 1976.
Flint Valley NV is a crisp, dry white delicately oaked with hints of vanilla. The vineyards of the estate are situated on the south-facing slopes the North Downs and benefit from the area's chalky soils. At 265 acres, it is the largest wine estate in the UK.
The Dart Valley Reserve is made in an off-dry style from a blend of grapes and is partially aged in American oak. The Sharpham family estate on the bank of the River Dart in South Devon boasts vineyards, creamery and an organic dairy that have produced wines and unpasteurised cheeses for over twenty years.
Nyetimber is one of England's best-known winemaking names, having been established with the express goal of producing sparkling wines to rival those from the other side of the Channel. It has won gold medals at wine shows around the world, beating some many established champagne houses at their own game.
'We're proud to be offering a range of English wines at Kettner's," says General Manager Andrew Goddard. The hand-picked selection we're serving during English Wine Week has been it because it offers quality every bit the equal of more established wine-producing countries. Those with preconceived ideas about English will be surprised to discover just how exciting some of the wines England is producing really are."
Kettner's in Soho is an impressive three storey venue, housed in a handsome corner site on Romilly Street in Soho. It comprises brasserie, Champagne Bar and Pudding Bar in addition to a number of private rooms or 'cabinets particuliers'. The English wines are on offer throughout the venue.