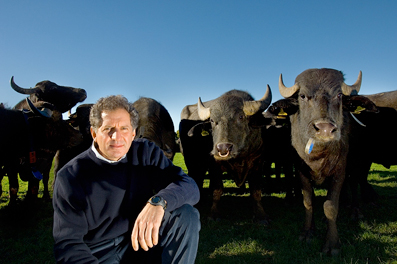 February 2009 will see two renowned purveyors of food, Harvey Nichols Fifth Floor and Laverstoke Park Farm, join forces to showcase a new range of menus celebrating all that is good about comforting Winter eating. A hearty farm breakfast will be available at the Café and a stunning Market Lunch menu at the Restaurant, both created using the finest seasonal produce from Laverstoke Park, a leader in the field of ethical, organic and biodynamic farming.
Situated in Hampshire, Laverstoke Park Farm was started seven years ago by Jody Scheckter, a former Formula One champion who wanted to produce nutritious, well sourced, great tasting food for his family. The farm now operates on biodynamic principles and produces everything from a fantastic variety of meat, including water buffalo and many rare breeds, to more than a 100 varieties of seasonal fruit and vegetables and now, even its own organic ale.
Jonas Karlsson, Fifth Floor Executive Chef has excitedly welcomed the opportunity to create a brand new breakfast and lunch offering featuring a selection of prime seasonal Laverstoke Park produce. The Laverstoke Park Farm Breakfast and Market Lunch menu will be available daily at The Fifth Floor Restaurant from 15th February to 31st March 2009.
LAVERSTOKE PARK MARKET LUNCH MENU
Buffalo carpaccio, pepper oil
Chicken terrine, bull's blood salad and herb emulsion
Chunky winter vegetable soup, basil pesto
_________________________
Leek and truffle tart
Market fish, hand cut chips and homemade tartare sauce
Slow cooked pork belly, braised lentils, fortune apple and calvados jus
_________________________
Laverstoke Orchard crumble and custard
Warm chocolate cake and Laversoke ale ice cream
Two courses £19.50
Three courses £24.50
The Fifth Floor Café Laverstoke Park Full English Breakfast features bacon, sausage and black pudding from the farm and is priced at £13.95, including a pot of tea. Farm Breakfast will be available at the same time as the Market Menu. All of the produce featured on the menus is also available to buy at the Harvey Nichols Foodmarket.
To book in to sample this great offering, please call reservations at Fifth Floor Restaurant and Café on 020 7235 5250.