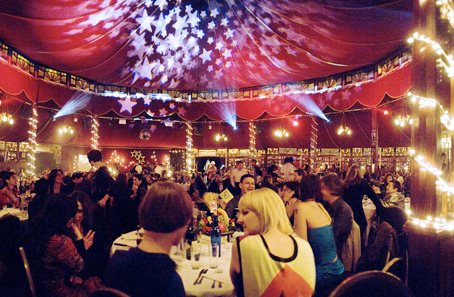 Multi-award winning Madame Zingara and her Theatre of Dreams arrives in the UK for its European debut.
After 2 years in South Africa, the multi-award winning bohemian playpen, Madame Zingara and her Theatre of Dreams is set to arrive at the Battersea Power station in London on December 12th 2008.
Based on the traditional Mirror Tents of Europe (Spiegeltents), first built in Belgium around 1900, the Theatre of Dreams offers a multi-sensory experience, which transcends the boundaries between audience, artists and staff. With an eclectic troupe of performers, the show, which will reside for three months is a fusion of cirque, cabaret,contortion artists, music and comedy, specifically created to mesmerise, thrill and enthral.
The audience will be treated to an evening of decadent dining and performance art. Upon entering the Theatre of Dreams, one is immediately struck by the myriad of fascinating characters which abound, and this is before the show has even begun.
From the moment you cross the threshold everyone you encounter takes on a character and your waiter could be anybody from a Marie Antoinette to a Roman guard. Guests are invited to partake in the fantasy by visiting Madame Zingara's Bijoux Boutique, which sells anything from feather boas and tiaras, to trinkets, wigs and French Maid outfits.
With no guest further than 8m away from the stage, guests will feel completely part of the whole experience. The Theatre of Dreams will be at Battersea Power Station from December 12th 2008 for 3 months.
Madame Zingara, Theatre of Dreams; at Battersea Power Station for 3 months from 12th December. Tickets are on sale now and are available from the box office on 0844 338 8888 or online at www.madamezingara.com.