108 Baker Street, London W1U 6LJ
Tel:020 7958 5210 | www.parkplazasherlockholmes.com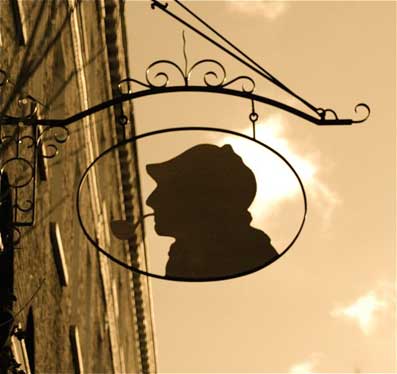 Calling a place Sherlock's when it's located on Baker Street is, I suppose, rather inevitable. Luckily though it's not something that every local retailer has chosen to do There is no 'Holmes 4U' estate agents and no pub called The Moriarty's Revenge. The hotel, which houses the restaurant, does have a silhouette sign of the great man hanging outside but that, thankfully, is the limit of the theming.
You pass through a rather nice bar to get to the restaurant; all leather bucket seats and warm colours, and the restaurant itself is cosy for a hotel with none of the echoing vastness that seems otherwise to be standard in such places. There's a wood-burning oven on view at the far end and when it's lit it must add a merry note to the place which. the lunchtime we went, was doing well for customers. A flickering fire in the lounge next door also looked inviting. This is a hotel that seems personal.
Eschewing (what a great word) the Xmas lunch we tried the a la carte which is reasonably priced for a hotel. Quite brave too, with pigeon as a starter offering. This came well cooked, it's all to easy to turn pigeon into shoe leather, and the caramelised kumquats with it, although not all that caramelised really, did add a proper astringency to counter the pigeon which, we were assured, was wild. The accompanying Jerusalem artichoke puree was under-seasoned but pleasant enough. The other starter of Foie gras parfait with spicy apple compote with brioche was creamy and rich and all you expect from foie gras, but a little more brioche wouldn't have gone amiss and the compote was a bit too much like ordinary apple sauce.
Sea bass main was, as it so often is for my taste, under seared. That skin has to be left to get crispy before the fish is flipped over. Half the taste comes from that seared skin, rather like crackling with pork. The fish came with a seafood and fennel fricassee and bouillabaisse sauce. Normally fennel can cut through anything with its aniseedy angle but here, like the bouillabaisse sauce, it was muted down to almost nothing.
Duck breast was more successful; we were asked how we wanted it cooked, which I suppose is how hotels have to behave but surely there is only one way of cooking duck breast which is correctly pink almost all the way through? The plums with it were a good balance and the mash was good too, but the sautéed new potatoes were rather grim. I imagined par-cooked potatoes, sliced reasonably thinly and then sautéed in a lovely oil; instead we got under-cooked potatoes, simply sliced in half and then burnt in a frying pan.
A very good crème brulee made us happier, as did an excellent tarte tatin which only suffered from being a bit cold. It had been taken out too soon or left out for too long. Staff were friendly although they did ask us three times if we wanted water despite, or perhaps because of, being told 'no' the first time. And we got the wrong wine, but as it was three pounds pricier than the one we ordered we kept schtum about that.
Good marks for ambience at Sherlock's but the great detective would have found clues that they could do better in the food department. A sense of laissez-faire my dear Watson.
Nick Harman December 2008