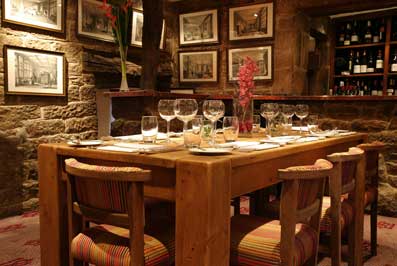 From January 2009 a unique 'Head to Tail' menu – offering customers cuts of meat from every part of various animals – is to be available at The Devonshire Arms – Beeley.
Situated in the stunning village of Beeley, Derbyshire, the charming 18th century country inn is owned by the Duke and Duchess of Devonshire and located in the estate surrounding their ancestral seat, Chatsworth House. Its restaurant is renowned throughout the Peak District for its beautifully cooked menus made from produce grown and reared on the estate – including incredible beef, lamb and pork.
The 'Head to Tail' menu can be enjoyed as part of a special package that carnivores will love including dinner, bed, breakfast and a meat master-class with the butcher from the Chatsworth farm shop.
The 'Head to Tail' menu will change seasonally, but the inaugural one is as follows:
Braised Shin of Beef with Red Wine and Shallots
Roast Leg of Lamb, Mint Sauce Roast Gravy
Pan Fried Lamb Kidneys Turbigo
Pan Fried Ox Tongue with Smoked Bacon and Quails Egg
Minute Steak with Skinny Chips, Fried Egg
Salad of Lamb Sweetbreads with Croutons and Mustard Dressing
Pickled Lamb's Tongues
Braised Ox Heart with Mashed Potato and Morel Mushrooms
Navrin of Lamb
Beef Marrow on Toast
Braised Ox Cheek with Winter Vegetables and Madeira
To find out more or to make a reservation please call +44 (0)1629 733259 or email enquiries@devonshirebeeley.co.uk
Award-winning chef-patron Alan Hill says: 'Head to tail eating is a current trend that actually dates back millennia and bridges most culinary cultures and tradition. Historically, peasants in any part of the world using their resources to feed and raise a pig or a cow would naturally want to consume as much of the animal as possible – to get the best return on their investment.
'We wholeheartedly embrace this age-old and simple concept. Ethically and environmentally it's much better for both the individual animal and our planet that we don't throw away perfectly good meat."
Awarded Pub/Bistro of the year at the 2007 Derbyshire Food and Drink Festival, it is a wonderful combination of rural idyll and modern sophistication. Inside, period features – such as exposed oak beams, open log fires and stone nooks and crannies – are juxtaposed with brightly coloured contemporary soft furnishings and a funky brasserie, with a glass-fronted wine store. It offers the charm and character of a historic inn combined with 21st century luxury and style. The Devonshire Arms – Beeley was also awarded the Yorkshire Post Pub of the Year 2007 award.