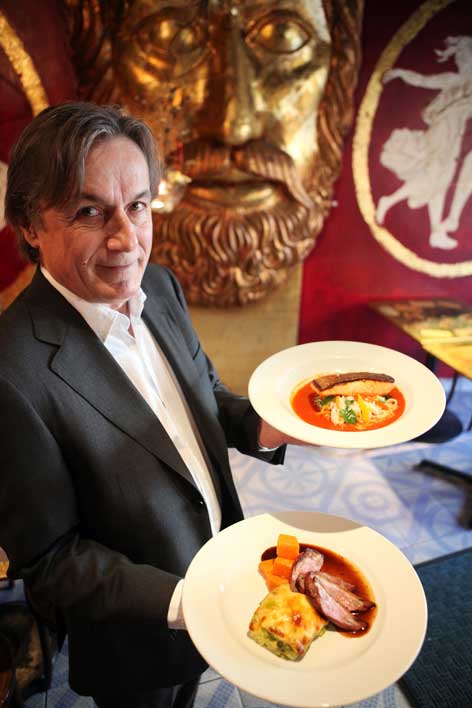 A London restaurant is tearing up its bills and asking customers to just pay what they think their food and service is worth.
Peter Ilic, owner of the Little Bay restaurant group, will not present a single food bill to diners at his Farringdon Road restaurant during February.
'It's entirely up to each customer whether they give £100 or a penny. All I'm asking is they pay me what they think the food and service is worth," said Peter, who has run restaurants in London for more than 26 years.
Little Bay is renowned for serving fresh, hearty meals at incredibly good prices in its trademark opulent surroundings. The February menu at Little Bay Farringdon includes ingredients which wouldn't be out of place at Michelin starred establishments including foie gras, smoked salmon, caviar and fillet steak. Customers will also be treated to Little Bay's famous live opera.
Peter said: 'It just seemed the right thing to do with everyone under the cosh and feeling pretty miserable. We have seen so many more City folk coming into the restaurant lately, looking for a better value lunch. We're well known for serving great food at very competitive prices and this is the ultimate value for money meal."
'Pay what you think it's worth" will be available for the whole of February at Little Bay Farringdon. While drinks are not included in the offer, tap water will be freely available. To reserve a table, customers should call 0207 278 1234. Little Bay Farringdon is located at 171 Farringdon Road, EC1R 3AL.
There are four Little Bay restaurants throughout London: Belsize Road, Kilburn NW6; York Road, Battersea SW11; Selsdon Road, Croydon, CR2; and Farringdon Road EC1.
Little Bay Farringdon sample menu
STARTERS
Moules Mariniere-Steamed Moules with Shallots, Parsley, White Wine and Cream
Garlic Mushrooms-Red Pepper and Houmous Relish
Smoked Haddock Brandade-Leek and Potato soup with Caviar
Crab Tartlet-Saffron Cream Dressing and Mixed Leaf Salad
Oriental Duck Salad-Rice Noodles and Thai Dressing
Pressed Foie Gras Terrine-Brioche and Fig Compote
Goat Cheese Soufflé-Mixed Leaf Salad and Walnuts
LIGHT DISHES
Cream Tagliatelle-Smoked Chicken and Mange Tout
Seafood Pancake-Mornay Sauce
Double Muffin-Smoked Salmon, Sour Cream and Danish Caviar
BURGERS
100% Aberdeen Angus Scotch Beef Burger
Classic-Lettuce, Tomato, Mayo and Relish
Smoked Cheese-Lettuce, Tomato, Mayo and Relish
Spicy Peppers and Houmous-Lettuce, Tomato, Avocado, Mayo and Relish
Foie Gras-Lettuce, Tomato, Mayo and Relish
MAIN COURSES
Whole Boned Poussin-Paprika Potatoes, Lentils and Peppercorn Sauce
Grilled Fillet Steak-Gratin Potatoes, Spinach and Mushroom Sauce
Breast of Duck-Sweet Potato, Creamed Leeks and Duck en Croute
Braised Pork Chop-Bean Sprouts and Savoy Cabbage
Paupiette of Salmon-Avocado and Tomato Salsa, Tomato Butter
Grilled Vegetable Tian-Organic Aduki Beans
Steamed Butter Fish-Mixed Mushrooms, Spinach and Cep Veloute
SIDE DISHES
Green Vegetables
Home Cut Chips Fried in Goose Fat
Buttered New Potatoes
Mixed Leaf Salad
DESSERTS
Apple Cake-Custard and Vanilla Ice Cream
Chocolate Bavaroise-Passion Fruit Cream and Almond Biscuit
Pistachio Crème Brûlée -Strawberry Ice Cream
Profiteroles-Banana Cream and Chocolate Sauce
Selection of Cheese & Biscuits