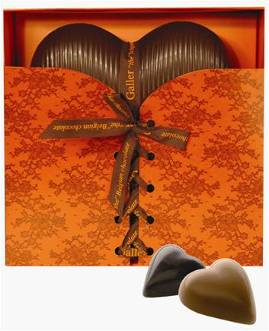 According to CBC News, Chocolate came to the old world from Mexico too late for Saint Valentine to ever taste the fine aphrodisiac, but the beloved sweet is so powerful that over the years it has been used for currency and even caused a few bloody battles when it was outlawed. Our modern day Valentines feel absolutely cheated if they aren't honoured with the finest chocolate available on this special day. And Luxury Belgian chocolate company, Galler, is here to help you stay out of the dog house. Previously only available at Harrods, you can now purchase products online and have them delivered straight to your door. With sexy presentations ranging from gift boxes that look like corsets to inseperable hearts flavoured to blend into exquisite pleasure this just might be your ticket to a night of love.
The Coffret Corsage gift box
Decorated with a delicate lacing of ribbon that holds together an enchanting box, the gift box reveals a hollow, dark chocolate heart containing 22 foil wrapped mini-hearts, 11 dark chocolate with a praline-flavoured filling, and 11 milk chocolate, filled with coffee caramel. 450g RRP £44.95
Oh! Les Cours
A collection of 4 brightly coloured, heart-shaped chocolates – a perfect present for your special someone. 160g RRP £20.50
Inséparables
These inseparable hearts work together – let them melt slowly in your mouth to experience their exquisite flavor. The darkness of the 70% cocoa for one and the wholesome milk taste of the other represent the perfect combination. 80g RRP £9.95
Kaori
The chocolate experience for people that like to experiment, Kaori is based on the traditional ink sticks and stones used in Japanese calligraphy. Combine six different flavoured chocolate sticks – Saffron, Cardamom, Yuzu, Ginger, Vanilla & Coconut and Strawberry & Balsamic – with three dipping pots of Orange & Cocoa Nibs, Matcha Green Tea & Poppy Seeds and Kalamansi and there are fifty four unique flavour combinations waiting to be discovered. RRP £14.50
Les Élémentaires Collection,
Three innovative chocolate collections based on the elements – air, water and fire RRP £12.50 per box
Volcaniques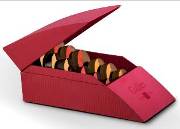 The box starts with the subtle heat of Sichuan pepper, the sensory journey continues with an explosive sensation in the mouth, followed by the intense heat of Esplette and pink pepper. Finally the smoky aromas of Lapsang Souchong tea, with dark chocolate leave a lasting impression of this volcanic experience.
Marines
Using salts and seaweeds to create unique chocolate flavours, Les Marines take the palate on a journey across continents to discover the distinctive tastes of la Fleur de sel de Guérande, Sel noir d'Hawaï, Nori and Wakame.
Floral Gift Box
The union of fresh flowers and chocolate ganaches produce a delicate texture and taste, in Rose, Jasmine, Orange Blossom, and Violet.
Galler chocolate is available at www.gallerchocolates.co.uk. Delivery takes 2 to 3 working days from placing the order if shipping to the UK.International orders will take longer.