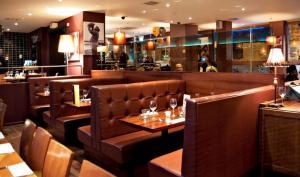 The Locale chain is small, but nicely formed. Established for some time now, Locale has recently started to present live music, with opera (hopefully there's not too much sturm und drang over the pappardelle) at Dulwich and jazz (nice) at Balham. It sounded interesting, so we thought we would give it a try.
I've always struggled with jazz, particularly the stuff that sounds like a piano falling down a flight of stairs while some horn or other honks away like gridlocked traffic, and barefooted types squirm around going 'yeah, yeah'. But I know there's more to jazz than that, and I've a soft spot for Ella Fitzgerald and Madeleine Peyroux, so with open minds and all that (jazz) off we trundled to Locale Balham.
Part way between Tooting Bec and Balham stations, Locale has a prominent position in Balham High Street. It's a good size space, with an outdoor terrace – not at its best on a raw November evening, but a nice feature nonetheless. Immediately inside is a small bar area with some very inviting chairs – we thought it would be a good spot to have a drink and listen to the music, but we were hungry, so made our way through to our table. A big room, the restaurant is divided down the middle by a few booths and we were happy to have one for the evening.
There have been a few changes at Locale in Balham since we were last there, about a year ago. The kitchen is now open, and there is – to A's great pleasure – a Josper grill. This has changed the menu somewhat and after sharing good starters of scallops and cold meats, we made a point of trying mains from the Josper. A went for the mixed seafood platter, which he declared very good. I had the chicken, which was tender and juicy. Both dishes were a fine advert for the Josper.
At that point, we could happily have stopped eating, but were seduced by the monte bianco and the chocolate fondant. Both had good flavour, although the fondant had been cooked a little longer than we'd have liked, the centre being moist but not runny.
While we were eating, the evening's entertainment had got underway. Locale Balham are featuring five acts every Thursday evening on rotation and we were there for Katie Verner and Laurence Pendrous. Being a West End performer, Verner's delivery had a clarity that was very appealing, and she performed a nice mix of jazz standards and some modern, easy-going songs, nicely accompanied by Pendrous on keyboard.
The live music added to the atmosphere and made for a good evening's entertainment, although I'm still ambivalent about jazz. But good luck to Locale for trying something different – if you're in striking distance of Balham, give it a try.
For our review of Locale, clock here