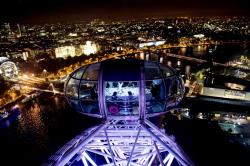 The London Restaurant Festival team recently set things in motion by putting tickets on sale for what promises to be perhaps the most exclusive pop up restaurant. Starting with drinks at the Savoy guests will be taken by boat to the London Eye where a capsule will have been transformed into a ten seat restaurant serving dishes from a glittering cast of Michelin starred chefs. Those taking part in this venture include Angela Hartnett, Jason Atherton, Claude Bosi, Pierre Koffmann and Marcus Wareing. And the evening will be completed by ia night at the Savoy.
Now in its third year the London Restaurant Festival 2011 (3-17 October) will have a schedule of interesting events this year, these include things that will meet most people's tastes and budgets. The Gourmet Odyssey will be back, and for this diners will have each course at a different restaurant, transported by Routemaster bus. Mayfair, Piccadilly, Soho and Clerkenwell are all covered. This year there will also be walking routes. The culinary debate, renamed 'Chewing the Fat', returns with the motion 'There Is No Such Thing As Ethnic Food'. Held at King's Place on October 11th, ticket holders will see guest hosts, set to include AA Gill, return for an evening of head to head culinary wit. Starter For Ten a fun foodie quiz for gastronomes is to be held at the Criterion on October 4th where the evening will couple great food with a real test of your food knowledge. A mini foodie film festival will take place at hotels in Covent Garden and Charlotte Street, where guests will enjoy cocktails and then watch a movie followed by a three course dinner inspired by the film. In the event 'What's For Lunch?' some of London's top chefs will be challenged to see if they can improve some classic British dishes. But there's lots more.
For more information about the festival and tickets for any of the events, visit the London Restaurant Festival site.