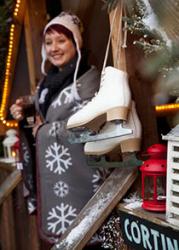 Ice stating and alcohol is surely a match made in (comedy) heaven. Good news then that London's first pub ice rink is to open from December, at the Leather Bottle in Earlsfield.
At a cost of £5 for adults and £3 for children, patrons will be able to slip and slide their way around the outdoor rink, complete with a snow machine, festive lighting and Christmassy music, then pop into the pub for some mulled wine and winter warming food.
The Leather Bottle are also in the process of giving their outdoor beach huts ski-chalet inspired makeovers, with heaters, blankets and hot water bottles, which will be available to hire.
It sounds like a barrel of laughs and we look forward to trying it out. The rink will be open from 1st December to 12th, from 5pm-9pm on Monday to Friday, and 12pm-10pm on the weekend.
538 Garratt Lane
Earlsfield
SW17 0NY