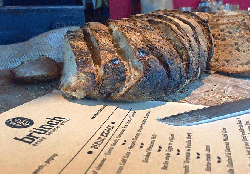 You'd not perhaps link Germans with Brunch, the meal that's not quite breakgafast and not quite lunch. It's a rather lazy thing brunch for people who wake up late on weekends and stereotypes ahoy, one imagines Germans are early risers.
But of course Berlin has always been a bit different and so this new Berlin brünch pop-up is full of Bs –  Bread Brunch Booze and Berlin vibes.
Creative founder of brünch and Berlin-born Noemi Dulischewski has devised this new roaming pop-up concept, which hijacks the most unusual locations around London for bespoke one-off events, offering a unique experience for guests every single time. She scouts the best ingredients directly from local suppliers and producers where possible and uses her own recipes, which she sometimes shares on her blog on the brünch website.
"Brünch is about bringing people together to 'break bread', discover new places, share experiences and simply have a good time while enjoying a moreish long, lazy breakfast… Berlin style." she says.
brünch is currently London based, with plans to expand the concept to Berlin and other European cities
The next event location for brünch is on Sunday 26 July from 11.30am at the Lassco Ropewalk in Bermondsey (41 Maltby Street,SE1 3PA).  In Victorian railway arches and a treasure-packed warehouse, guests can enjoy some Berlin vibes, food and drinks amongst vintage designs and architectural salvage.
The Ticket price is £23.00 per person there are two sittings 11.30am – 1.30pm and 2.30pm – 4.30pm (drinks extra) : To bookgo to:http://www.bruench.com
Food Menu
●      Selection of fine German cold meats and cheeses
●      Smoked Mackerel Pâté
●      brünch signature Amaranth & Chia Granola with German Quark
●      Berlin-style 'Eggs in a Glass'
●      Home-made Jams & Nutella
●      Typical German Dessert
●      Fresh Berliner Waffles
●      Unlimited fresh artisan Sourdough & Rye Breads
Drinks Menu* (not included in the ticket price)
The drinks menu, includes some of Berlin's coolest drinks, which are hard to find
anywhere else in London
(Club Mate, fritz-kola, Berliner Weisse, etc.).
And if you like it boozy, the bar will sort you out with the best Bloody Mary and other brünch specials.
There will also be amazing coffee and a variety of teas & juices available.
Every Berlin brünch includes locally-sourced cheeses, German meats, smoked fish, fresh fruit, home-made Granola with quark, German breads, home-made jams, Nutella, typical German desserts & cakes. As well as much-loved Berlin drinks such as Club Mate, fritz-kola, Berliner Weisse and sometimes surprise guest drinks too – from Germany of course.