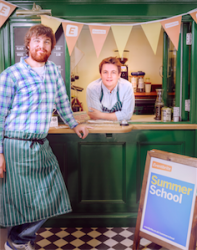 Throughout July, Eventbrite Summer School invites early risers to enjoy a timetable of pre-work classes, designed to champion morning learning. The month-long series, held in Central London, includes interactive lessons and dynamic workshops across food and drink, wellbeing, languages and music. With an impressive line-up of talent teaching the classes, there's no excuse to lie-in this summer.
Food perfectionists Thom and James Elliott of Pizza Pilgrims, kick-started Eventbrite Summer School at their coffee kiosk, Sottoscala in London's Kingly Court, with a lesson on How to launch a successful food business. They will return later on in the series with a follow-up class offering the tricks of the trade to wannabe foodies.
The line up of food and drink classes continues at the same venue with:
Latte Art: Coffee lovers learn how to create a masterpiece in their mug with a lesson in latte art and coffee tastings with Terrone & Co; authentic Italian coffee roasters.
Learn how to distil vodka and gin: Chase Distillery will be giving an introduction to distilling with the all-important do's and don'ts when creating super premium spirits.
How to make a bloody good, Bloody Mary: Join brunch superstars, The Breakfast Club as their World Bloody Mary Champion reveals how to make the perfect weekend morning cocktail.
In addition to food and drink sessions, Eventbrite Summer School also offers a whole host of creative and educational classes across wellbeing, languages, music, technology and more, including:
Make a Flower Crown with Rose & Wolf: Learn how to create this summer's must have accessory, a stunning floral headpiece. London florist Georgina Agutter will provide a step-by-step guide on how to make a fresh flower crown – from selecting the right flowers to choosing the best colour combos – just in time for the festival season.
Mundo Lingo's Language Practice: London based Mundo Lingo events will bring their unique and popular'find the flags' language practice socials to Eventbrite's Summer School. From Spanish to Japanese, enjoy a relaxed multilingual environment while socialising with other language learners.
Morning Meditation with Emma Mills London: Eventbrite has partnered with Emma Mills London to provide a series of classes, designed to teach pupils techniques to ensure they start their day positively.  Meditation lover and author Emma will host an introduction to meditation and a morning literary meditation salon. 
Social Media Strategy with Avocado Social: Join Social Media expert Alison Battisby, Founder of Avocado Social for Top 10 Social Media Strategies for Start Ups. This practical session will take you through some of the top trends in social media in 2015; from Instagram tricks to winning with Facebook Ads.
Bike Maintenance workshop: London cyclists keen to look after their wheels and be road safe will learn how to do basic repairs and fixes with bicycle manufacturer Giant St Pauls.
How to bring your business into the mainstream with Cawston Press: Soft drinks gurus Cawston Press will provide guidance on how incorporating brand positioning, products and, most importantly, people can take a business from the local market to high street supermarkets.
To see the full schedule of classes at Eventbrite Summer School, taking place at Pizza Pilgrims Sottoscala throughout July, and to book your space visit: Eventbrite.co.uk/SummerSchool and follow @BriteLondon
Event costs vary, from free to £10, spaces are limited so please reserve your seat at Eventbrite Summer School by visiting Eventbrite.co.uk/SummerSchool