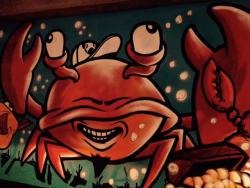 Here are three things I recently learned about crabs:
Whenever they lose a claw, it grows back easily.
The collective name for a group of them is a cast.
I can eat a cast of six crabs in one night.
This newfound knowledge was all thanks to a visit to the newly opened NYC-style crab joint, Crab Tavern. Spotting it tucked away behind a sea of white collars drinking out the hottest day of the year in Broadgate Circle, I'm ready to get my hands dirty. Bring on the lemon scented serviettes.
Crab Tavern is owned by Igor Krayushkin, A Russian restauranteur and a man with an obvious propensity for luxuriant dining. But what Crab Tavern does well is tone it down a notch – a cool East Coast USA sea breeze blows away the fuss. Crab Tavern is casual enough.
As you might well expect, it combines an urban dining area and bar space – long leather couches stretch along the side wall. There are booths. Closer to the bar are high benches and stools. There's a scattering of squeaky clean faux-beach house wood paneling.
The noise was hoisted up well above waist height, so less of a romantic destination than a more sophisticated post-work foray into something a bit different. (That said, there's a more intimate downstairs area.) There is a large alfresco area too, which tonight, was awash with Amex.
Then there's the food. It was too hot for the West Coast Bucket Boil, but there were two main dishes that stood out. The Soft Shell Crab Burger was exactly as it sounds: two soft shell crabs served – one piggy-backing the other – in a bun. They were cooked in a batter (which was slightly on the salty side – although  it worked with the moist bun, cress and rocket) and served whole – shell an' all. A refreshing variation on the stalwart burger, and for somebody that peels the skin off an apple, the fact that you can eat (and enjoy) the shell of a crab came as the night's surprise.
The other dish was a mound of Singapore crab, which loomed large and intimidatingly over an already waning appetite. The menu description did it little justice, describing it simply as'Singapore Crab', but our friendly waiter made all the right sounds when we suggested it. Cooked with a curry paste, green curry leaves and fresh chilies, it came with a spicy kick. I also found another one of my soft shell crab friends in the mix.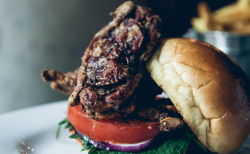 Aside from the crab? The menu includes a relatively eclectic mixture of things for people that have an aversion to eating ten legs. The starters range from squid rings in black pepper batter, barbecued ribs, and some good sharing platters. And for those less inclined to commit themselves to a whole crab main, there is a range of more classic mains – like steak, roast chicken or catch of the day. There are also salads, and some interesting vegetarian options like Beetroot, Orange and Goat's Curd Salad, or Asparagus Papardelle.
Being all East Coast and everything, they had a good range of lighter bites too, with club sandwiches and Po'Boys – and a Shrimp Mac 'n' Cheese. So it would make a good lunch destination for city workers.
The wine list was extensive, catering for all budgets and tastes. It even included a dessert wine list, with options by the glass. The beer selection was less imaginative, with Oranjeboom lager, and staple pale ale offering little surprise. And while the cocktail menu was'under development', I got a preview. The Crabtini was a variation on the Martini, and included violet flower. (No relationship to crab, as far as I'm aware.)
As for those lemon scented serviettes. This place was a notch up from that. Real lemon in a little bowl. So, hands cleansed of crustacean, the night was over. As I've said, I tallied six crabs in total. That's a lot of legs. And, to my knowledge, not one of them has grown back.
Attempting to move my own limbs was a different matter. And as I left sluggishly, I noticed a cute crab graffitied on the wall behind me giving me a sardonic smile loaded with retribution. I nodded at him and said "Sorry". And then "Thanks".
The Crab Tavern is open Monday to Friday, between 07.00 and 23.00 – weekends 10.00 until 22.30. They are about to start serving up breakfasts too, where you'll find things like crab hash browns on the menu.