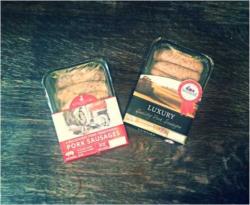 If food were simply nutrients the dinner table would be a very dull place. Thankfully, at least as far as I'm concerned, it is not. A meal can fuel conversation, rekindle friendships, start relationships, and so much more.
When I was younger I remember my dad would take me to a pub in a nearby village right next a huge cement factory. It was full of mismatched furniture, Victorian polyphones and other obscure treasures that had clearly been collected over a number of years. My dad would have a pint of Burton Bridge, I'd have a coke, and sometimes we'd have a pickled egg fished from its vinegary home by the jolly landlord, before being presented on a plate with some salt.
Now, many years later I am unable to eat a pickled egg without being mentally transported back to that pub; the antique furniture, the music machines, the grey faces of the cement factory workers propping up the bar.
It's more than an egg. It's more than nutrients.
With this in mind, I was particularly pleased to receive an email asking if I'd like to try a certain sausage the other day. For the last ten years, the 11th Earl De La Warr has apparently been searching for the recipe of one of his childhood food favourites – a sausage with fond memories attached.
After finding out the butchers from which these special sausages were sourced had closed, William De La Warr set about tracking down the butcher himself, but after many meetings discovered he had sadly passed away taking the recipe with him.
Thankfully, William did not give up and instead locked himself away in the kitchen; experimenting, cooking, remembering, until one day he had his stroke of banger brilliance and produced the special sausage he remembered.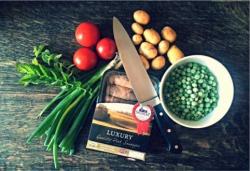 After teaming up with Speldhurt, a Sussex banger manufacturer, the Earl's sausages are now available to everyone and I must admit are really pretty good. It may sound strange but the first thing I noticed when taking a bite was the meatiness. Yes, I know,'a meaty sausage', a description about as ground breaking as not receiving an RSVP to your gay wedding from the Westboro Baptist Church. But it's the most accurate word.
Admittedly, the test of any good sausage is bangers and mash but this has been no weather for that, and so I had them with crushed minted peas and roasted salsa potatoes.
For more information on the prestigious porkers visit this website, or carry on down for my summery sausage supper recipe. It's not complicated or flashy but lets the sausages sing.
Buckhurst Park Sausage with Crushed Minted Peas & Roasted Salsa Potatoes
Ingredients (to serve 2)
Four Buckhurst Park Pork Sausages
Three medium sized salad tomatoes
Half a red onion
Three spring onions
Two handfuls of new potatoes
Two cups of garden peas
Two sprigs of fresh mint
Salt & Pepper
Olive oil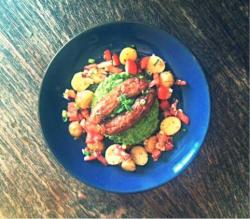 Method
Pre-heat the oven to gas mark 5, or 180°C, and get two pans of boiling water on the hob with a pinch of salt in each
Cut the new potatoes in half and put into one of the pans and add the peas to the other
While the potatoes and peas boil away arrange the sausages on a baking tray and put into the oven
Finely chop the tomatoes, red onion and spring onions and combine in a bowl with a teaspoon of olive oil, salt and pepper. Be sure to keep a couple of pinches of the spring onions to the side for later. You could add a drop of balsamic vinegar, chili sauce, or chopped chilies to the salsa mixture depending on your tastes
Boil the peas for around four minutes then drain and set aside to cool
Once the potatoes have softened (around 15 minutes) remove from the heat and drain. Arrange them on a baking tray, drizzle with olive oil and season, and then put them in the oven. This would be a good time to turn the sausages
Finely chop the mint leaves from the two sprigs and put into a blender with the peas, a drizzle of oil and a pinch of salt. Blend them just a little for a spreadable but chunky texture
Once the sausages are browning, and the potato skins are crisping up, remove them from the oven
Add the potatoes to the bowl of tomatoes and onions and toss, coating all sides
10. To plate up pile the minted peas in the middle of each plate and scatter the potatoes around them. Place the sausages on top of the peas and sprinkle over the spring onions set aside earlier to finish
The Buckhurst sausage can be bought from Waitrose priced at £3.00 for 400g or can be found on the menu at The Dorset Arms, a pub owned by Lord De La Warr. Other sausages in the range can be found at major food retailers priced from £2.50.
Rather someone else did the cooking? See how Nik got on at The Plantation, Poole