53 Cliff Drive, Canford Cliffs, Poole, Dorset BH13 7JF www.the-plantation.co.uk
The South Coast beckons for Nik and he heads to that part of the English Riveria that is Poole in Dorset, to sample the delights on offer at The Plantation.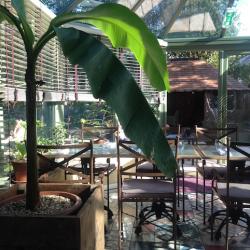 Poole is a funny place. Like a small length of the French Riveria that somehow washed up in Dorset, the seafront is lined with brand new mansions hidden behind fences ten feet tall, expensive cars litter the road and palms trees grow in every garden.
The town itself is classic English seaside, dominated by fish and chips and screamingly violent seagulls, but with the added oddity of luxury super yahts anchored just off shore.
Only a couple of hours from London, you can see the appeal for the mega-rich. Sunshine, sea and giant houses. They should definitely 'do a TOWIE' down here.
The Plantation is just outside the centre, slap-bang in the middle of the wealthly side of town. The road leading up from the sea is pure Beverly Hills and in the car park our Land Rover looked like the servants vehicle, being seven years old and all.
It's a beautiful modern pub, The Plantation, dressed up with a slightly colonial vibe – palms in old tea cheats, canvas safari huts in the garden, spinning fans in the conservatory and pictures of elephants on the wall.
The sun was shining and, unfortunately, the beer wasn't flowing, as I was the one driving. The Plantation is owned by Upham Brewery – a Hampshire based brewery who do a mean couple of pints. An opportunity to rack up another four points on Untappd, gone begging. Oh well, maybe next time.
We were eating early for a Saturday, but the place filled up quickly – no surer sign that a restaurant is popular with the locals. And boy, were they local. Shiny cars, shinier shoes, and chinos covering the full spectrum of the rainbow.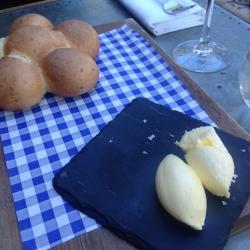 Sitting down to a plate of home baked bread and whipped butter, I felt we'd enjoy this place. Dishes of asparagus and deboned chicken wings followed, with seabass and rapeseed mash not far behind. What the food lacked in punch it made up for in quantity.
I'd say this is a cook's dinner, rather than a chef's. A competent cook, don't get me wrong. The food is decent, consistent and filling. A good local restaurant to have, but not one that will likely fill your plate with flare.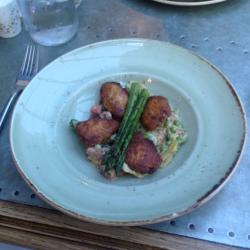 This might be unfair – as I said, it was a popular place with the locals. Upham Brewery seem to have made a rod for their own backs though. At The Bunk Inn, tucked off the M4, they have a creative, inventive and damn right skilful chef whose food left my almost speechless.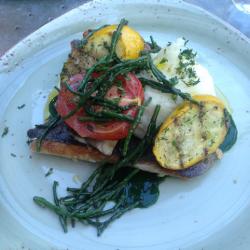 We're really not comparing like-with-like here and I knew we never would be. The problem is, once you've tasted food at The Bunk, it's a very high benchmark that's hard not to ignore.
Not that I want to try and tell these guys their business – what do I know about running a small group of pubs and restaurants? Nothing, that's what – but perhaps they should take that chef and apply his wisdom across their other venues. That would make a productive turn of their golden goose.
And it really wouldn't take much. The asparagus and chicken wings promised an interesting flavour, mixed up as it was with chorizo. The balance of flavours was a little lost though, hidden beneath a puddle of peas. The sea bass was delicate and perfectly season, but it was used as the base for the monster spoon of potato, and not the other way around.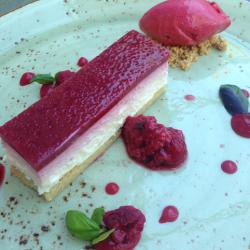 There are elements here that sing, yet are drowned out by the heavy sides piled on top. Ditch the potato, ditch the peas. Less is often more. Bring those flavours to the front with a little more panache and we'd have a meal at The Plantation fit for The Bunk.
It's a simple tweak really, nothing more – a rebalancing of what's already there. I'd love to go back again, perhaps in a couple of months once they've seen a Summer of diners fly through the doors – its definitely a popular place for a reason. By then I hope that the tweak has happened, the focus of each plate subtle changed and the best flavours brought to the fore.
Read our review of The Bunk Inn here.