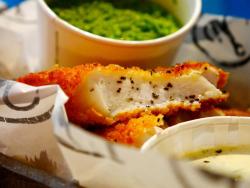 I've lived around Brixton pretty much all my life, but not actually in it for some years now; I just use the tube station. So I had no real experience of the demographic shift apart from news reports of protests at gentrification, protests which for some mysterious reason never seem to happen in the East End.
Going into Pop Brixton, the'village' of bars and restaurants created from old sea containers though, the difference is evident. So many loud public schools voices and where once posh boys might have grown dreadlocks to fit in, they now proudly flaunt their thick well-nourished manes while the girls show smart watches on matchstick thin wrists.
It's packed in Pop, it's'Disposability of Income Island' with only the security guards hinting at the possibility of attack from the excluded. There's only one way in or out, it's a bit like being in a Mad Max fort, so it perhaps would not end well for the defenders.
These kind of socio-economic concerns aside, I do like it in Pop. It's a warm evening, people are happy, they are drinking locally-brewed beers and the various food outlets are doing well serving up good-looking dishes.
There's even a pop up wine bar selling only New Zealand wines, so I pick up a bottle to take away for £12 and then at the till discover I have misread £120. Yikes, best put it back.  The interesting thing is that the chap on the till obviously sells a few of these as he seemed unsurprised at someone about to spend that kind of money.
All the Vietnamese, Jerk, Japanese, Indian and French grub around really does look tempting but we want something a lot rarer in England these days – English food. So seeing Fish & Chips we advance up the stairs to Hook.
Originally from Dublin via Brussels, Hook has its main UK restaurant in Camden'oop north, and here in the sarf the menu has by necessity been stripped back to accommodate the limited kitchen facilities. There are a few simple tables inside, but most people take their food to the communal eating area that serves all the restaurants on the top floor.
They don't drench their fish, from The Flying Fish Seafood company in Cornwall, in the usual greasy overcoat of batter at Hook, but use tempura or panko breadcrumbs instead, so I try Lemon and Basil Tempura of black Seabream with Seaweed Salted Chips and Garlic Truffle sauce.
Seabream is perhaps not the first choice for deep frying, it's a delicate fish with a subtle flavour, nonetheless it works very well here served in 'newspaper' with its batter crisp and the fish retaining its texture and excellent taste, while being just a little slippery to handle. The garlic and truffle sauce is very good even, though almost certainly using the dreaded truffle oil, and the chips although disconcertingly dark, no doubt the side effect of the seaweed, are proper chip shoppy – soft and not crunchy and go down like eels.
P has hake as her fish, a fish that gets fried all over Spain very successfully with its dense flesh just perfect for the job. It's something I always seek out when on the costas and this is a very good example indeed, with clear accents of sharp lemon and aniseedy fennel in the panko and the lemon and basil dipping sauce clean and sharp.
We try small pots of other sauces at a quid each, Smoked Chilli Ketchup which has very strong smoke and a Chipotle, Basil & Chilli which is a bit lively on the capsaicin front. We also try some mushy peas, which I assumed would be served cool or cold but which were in fact scalding hot and did the roof of my mouth some serious damage. Caveat emptor.
We drank some local Brixton craft beers, as is the fashion, and enjoyed same enormously. By now the crowds were building fast and we felt it only fair to eat up and let someone else have a seat. We were pleasantly full, sated even, and the price was right for the quality, even perhaps a bargain.
Outside Pop the streets were deserted, the cheerful glow from the containers failing to illuminate Electric Avenue, so I clutched my Kiwi (not £120) wine tighter to me as we scuttled to the bus stop.
I liked Hook; the food was fine and had me gaffed and landed no problem. You can't stop gentrification, and few really want to if we are truly honest, but places like Hook offer something affordable and high quality as the relentless onward middle class invasion continues. And Foxtons will, no doubt, get used to reglazing their windows.
Photo supplied by Hook