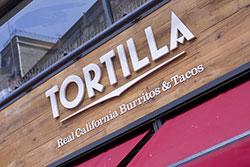 It seems that London is going mad for Mexican burrito joints lately, with new stores opening up and more on the horizon. Poncho 8 has expanded West to Paddington and after tasting their burritos and salads (and liking what we ate), we decided to test out a different stalwart of the London burrito scene following their recent revamp: Tortilla.
Founded by Californian husband-and-wife team Brandon and Jane in 2007, Tortilla has achieved rapid success in the capital, culminating with it being awarded #1 Mexican restaurant in London by Zagat. Tortilla now operates 11 stores throughout the whole of London, with four more in the works.
The Oxford Circus Tortilla store had a bustle to it on Monday lunchtime, with hungry office workers forming the majority of the sizeable queue. Service is quick however, with a conveyor-belt system in which each operation of crafting the tortilla is carried out by a different Tortilla employee.
"Tomato or coriander rice!?" "Sour cream or guacamole!?" The options are rattled off with machine gun urgency and we're slightly bewildered but manage to order just fine anyway. Everything is speedily assembled, making it a compelling lunchtime option, and the burrito is expertly wrapped by the staff.
A steak burrito featured delicious, smoky chunks of meat, and the tomato rice, lovely grilled peppers and guacamole finished it off rather nicely. This is often messy food, but Tortilla's staff wrap the burritos well enough so that your fingers stay more or less clean (until the end, that is).
Chicken burrito was similarly nice and smoky, with good fillings. The food is richer than what you'd get at Poncho 8, and we found that a medium sufficed. Tortilla also do a good selection of appropriate beers and we've heard they can rustle up a mean Margarita too. If you're feeling for some Mexican as a treat on your lunch break, don't overlook Tortilla.
6 Market Place, London W1W 8AH