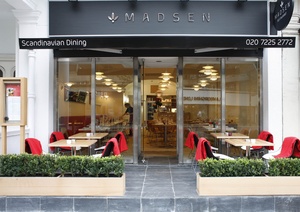 Whilst the Nordic Diet is being hailed as 'next big thing', the recently opened Madsen restaurant in South Kensington, calmly goes about creating dishes which are about to awaken our tastebuds to the new taste of tomorrow's healthy eating.
Danish head chef René Madsen puts his own uninhibited spin on herrings, pollack and bacon, showing innovation where others have seen limitations and giving these ingredients a deliciously contemporary twist.
Restaurant owner Charlotte Kruse Madsen comments: 'I see the excitement about Scandinavian food growing in the UK, maybe because our two staples are very similar: lots of root vegetables and high protein foods like slow-cooked lamb, pork and beef in winter, fish and salads in summer. Our native fruits such as blueberries are already popular here, whilst cloudberries are becoming more available, and both are a good source of omega-3 fatty acids, which are essential for a balanced diet'.
Thus with Easter approaching, Madsen will be offering a traditional Scandinavian Smörgåsbord, offering a selection of 13 dishes at £25 per person, and £12.50 for children under 12 years old. On the buffet you will find Three kinds of marinated herring with homemade curry salad, Smoked salmon with red onions and sour cream, Skagenröra, a creamy prawn salad with horseradish and dill, Roast lamb with root vegetables, the tasty Frikadeller, Danish meatballs served with potato salad and leafy greens and Marinated fruits with vanilla sauce. The Smörgåsbord comes with a selection of freshly baked rye brad, sourdough and crisp bread.
From the main menu, you can choose modern European dishes with the Scandinavian touch, and Danish specialities such as Flæskesteg med Rødkål, Roast pork and crackling with red cabbage at £12.50.
The all-European wine list 'to cut down on wine miles and help reduce carbon emission' says Charlotte, has several interesting choices. But it's the Scandinavian beers and the Akvavit snaps you will want to try at Madsen, including their own home-made Easter snap, brewed for two weeks from vodka, liquorice root and orange zest. Brand new from Rise microbrewery in the Ǽrø island off the coast of Denmark, is the 'Easter Ale', smooth and round with hops character and deep red in colour. Brewed on water, it uses Pale Ale, Crystal and Black barley malts to achieve its unusual character.
At the forefront of the Nordic cuisine revival currently enjoyed in London, Madsen is inspired by the Scandinavian tradition of using wholesome, raw and unprocessed ingredients to produce the finished dish. Menus are seasonal and change every two months, combining traditional dishes with a modern approach to European cooking. Nordic purists and adventurous gourmets can enjoy Swedish Tuesdays and Danish Wednesdays, when traditional dishes are offered as additional choices. Madsen is open every lunchtime and dinner. Nearest tube: South Kensington. Also check www.madsenrestaurant.com