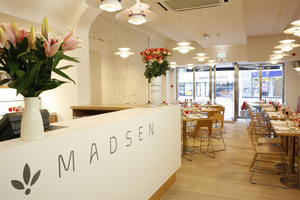 Less than six months since opening, the Scandinavian restaurant Madsen has been awarded with its first AA rosette.
Given in recognition of 'culinary excellence', the coveted Rosette is awarded to 'excellent restaurants that stand out in their local area, where the food is prepared with care, understanding and skill, using good-quality ingredients', as specified by the strict AA rules.
Madsen is causing a stir in London with its cuisine based on the Nordic Diet, which some have tipped as 'next big thing' in terms of healthy eating, whilst awakening our tastebuds to new taste sensations.
Madsen is inspired by the Scandinavian tradition of using wholesome, raw and unprocessed ingredients to produce the finished dish. Menus are seasonal and change every two months, combining traditional dishes with a modern approach to European cooking. High protein and root vegetable dishes part of the Nordic Diet and which currently feature on the menu include Skagen – fish soup with white wine, carrots, leeks and fresh market fish, Three kinds of marinated herring with homemade curry salad, Lamb in cream dill sauce and Baked Pollack on purée of peas, boiled potatoes and wine sauce. Classic Scandinavian desserts include Ǽblekage- stewed apples in layers with Amaretti and a touch of whipped cream. There is also a delicious Lemon baked rhubarb in own syrup with elderflower sorbet.
The cuisine of Danish head chef René Madsen is contemporary and distinctive, producing dishes of intense flavour but light texture.
Madsen also offers a typical Scandinavian Smörgåsbord at lunchtime and at weekends at £25 per person for 13 dishes, with a selection of freshly baked rye bread, sourdough and crisp bread.
Nordic purists and adventurous gourmets can enjoy Swedish Tuesdays and Danish Wednesdays, when traditional dishes are offered as additional choices. Madsen is open every lunchtime and dinner. Nearest tube: South Kensington. Also check www.madsenrestaurant.com