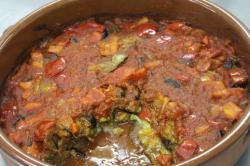 Until 28th October, London's top Spanish restaurants and Maltby Street Food Market will be celebrating the produce and typical recipes of Mallorca. There will also be several other events where you can come and try Mallorcan food and wine.
The RestaurantsThe particpating restaurants will have a Mallorcan speciality on their menu as well as Mallorcan wine by the glass.
Barcelona Tapas Scrambled eggs with Sobrasada and piquillo peppers  £5.95, Coca Mallorquina (formatge mallorqui stuffed flatbreads topped with sobrasada, pimiento de piquillo and empeltre olives) £12.95 and a glass of 12 volts wine £8.00 (175ml glass), £11 (250ml glass) and£31.95 per bottle.
Barrafina Frit mallorquín £7.80, glass of 12 Volts from 4 Kilos (callet & fogonue grapes) £8.00 per glass or £46 a bottle
Brindisa Tramontana – patata tramontana oven potato with Mahon cheese, sobrasada and fried duck egg. £6.Glass of  Macia Batle 2010 ( mantonegro & callet grapes ) £5.50. Both combined are £9.50 Cambio de Tercio Roast hake with a sobradasada crust and meloso rice with Mahon cheese   £ 19.50 , glass of Anima Negre (callet grape) £8.50
Fino – frit mallorquín £7.80, glass of 12 Volts from 4 Kilos (callet & fogonue grapes) £8.00 per glass or £46 a bottle
Iberica London – Coca mallorquina of smoked cod and escalibada £8.00, glass of D.O. Binissalem – Mallorca "Añada Roble" (Callet, tempranillo, cabernet) £5.00
Pizarro – sobrasada on toast with pear and honey £6
Sunday at Boqueria Tapas On Sunday 28th Boqueria Tapas will be working in collaboration with the well known Mallorcan chef, Oscar Martinez, who will create an entirely Mallorcan menu which will be available with accompanying Mallorcan wines.  To book your table, please contact Boqueria