She made you do all sorts you didn't want to and still does. But, lest we forget, she also quite literally Made you. So make her feel every bit as appreciated as you ought, if only to show your appreciation for bestowing the world with such a fine specimen of humanity. Here are our top 10 terrific treats.
The Mother of all treats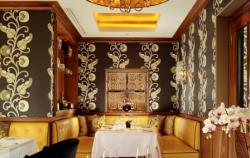 She may have asked'what have I done to deserve this?' on more than one occasion during your days together, but on this occasion it'll be uttered in wonderment rather than the usual woeful wail. The Mothers' Day package at St James's Hotel & Club includes a four-course lunch at Seven Park Place, a luxe overnight stay, and breakfast.
The Mothers' Day package costs £550. For more information and to book, visit www.stjameshotelandclub.com
St James's Hotel & Club, 7-8 Park Place, SW1A 1LS, www.stjameshotelandclub.com
Nathan outlaws 'not treating your Mum'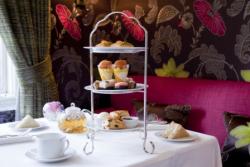 He's not really making it a crime, but the top chef thinks she should sample his sublime British afternoon tea at The Capital Hotel, 2012 winners of best London spread. Salmon, crab, and Cornish cheddar fills a sandwich selection, sweets include rhubarb trifle and saffron custard tarts. Plus, of course, the obligatory scone-cream-jam triumvirate.
The Mothers' Day afternoon tea is served from 2.30pm-5.30pm and costs £29.50pp, or £40pp with a glass of Ruinart Blanc de Blancs Champagne. For more information and to book, visit www.capitalhotel.co.uk
The Capital Hotel, 22 Basil Street, SW3 1AT, www.capitalhotel.co.uk
The Slacker's Saviour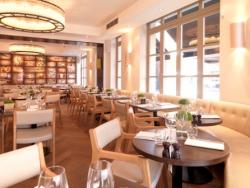 Sloane Square's The Botanist won't just hold your hand, they'll sort the whole shebang. £45 buys her a three-course Champagne lunch, whilst dropping an extra £50 adds flowers, Hotel Chocolat goodies and even a card to the mother-impressing mix. All you need do is sign your name with a suitable flourish – and provide company as sparkling as what's in her glass.
The Mother's Day packages are available on Sunday 10th March, and pre-booking is essential. For more information and to book, call 020 7730 0077 or visit www.thebotanistsloanesquare.com
The Botanist, 7 Sloane Square, SW1W 8EE, www.thebotanistsloanesquare.com
Premium Pampering at Primo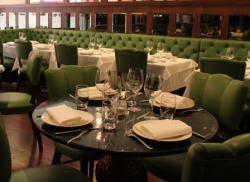 BOGOF is not something you should say to your mother. But you'll get the full benefit of a similar offer at Primo, where diners eating from the Mothers' Day menu get to treat their old dear for nowt. Chef Claudio Barchieri's crowd-pleasing Italian fodder includes malloreddus pasta with prawns, lamb tagliata, and a lemon tart with a surprising liquorice sauce.
The Mothers' Day menu costs £35pp and is available on Sunday 10th March, with one mother per table of four dining free. For more information and to book, visit www.primolondon.com
Primo, 117 Shaftesbury Avenue, WC2H 8AD, www.primolondon.com
Champagne, cream tea and cookie creativity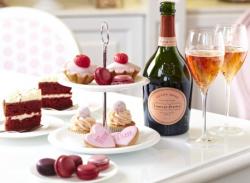 Any mother who fancies herself part of the Hollywood scene – we're talking GBBO's Paul Hollywood, of course – will love you forever for taking her for a Champagne afternoon tea at plush cakerie Peggy Parlour. If she's dotty about decorating, too, treat her to a full day of temptation by tacking on a biscuit icing class at the Peggy Porschen Academy.
The Mothers' Day Cream Tea will be available from 8th – 10th March by reservation only, and costs from £32pp at the Peggy Porschen Parlour, 116 Ebury Street, SW1W 9QQ
The Beautiful Blooms Bouquet Cookies Class costs £475 for two, and runs from 10am – 4.30pm on 10th March at the Peggy Porschen Academy, 30 Elizabeth Street, SW1W 9RB.
For more information and to book, visit www.peggyporschen.com 
French fancy at Clos Maggiore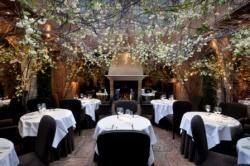 Nothing says'you're top, Ma' quite so well as a proper old-fashioned lavish luncheon. Covent Garden's Clos Maggiore is a master of the genre. The fine French restaurant has pulled out all its twinkly-lights-tinkling-music-t'riffic-service stops for Mothers' Day, delivering a delightful four-course feast, with paired wines for those who wish.
The Mothers' Day lunch menu costs £39pp, £64pp with paired wines. For more information and to book, visit www.closmaggiore.co.uk
Clos Maggiore, 33 King Street, WC2E 8JD, www.closmaggiore.co.uk
Tickle tastebuds to tinkling ivories at Gilgamesh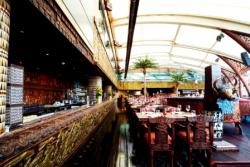 Mums with a progressive palate will enjoy Ian Pengelley's inventive Pan-Asian cuisine at Gilgamesh. Flavour-packed dishes include duck and watermelon salad, Thai red chicken curry and crispy salmon skin rolls. Dessert is a'surprise', but it's no surprise to hear it'll be tasty. A live pianist will soundtrack the feast, and Mum gets to eat for free.
The Mothers' Day menu costs £32.50pp, with one mother per party of four dining free. For more information and to book, visit www.gilgameshbar.com
Gilgamesh, The Stables Market, Chalk Farm Road, NW1 8AH, www.gilgameshbar.com
Motherly Masterclass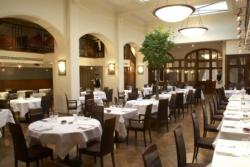 No, we're not suggesting you insult the woman who raised you by taking her to a good parenting workshop – rather, for a lovely day out at the Cinnamon Club. Chefs Vivek Singh and Hari Nagaraj will be in residence on Sunday 16th May for a late Mothers' Day celebration, showing you and her how to spice up your collective culinary repertoire.
For more details and to book places on the masterclass, visit www.cinnamonclub.com
Cinnamon Club,The Old Westminster Library, 30-32 Great Smith St, SW1P 3BU, www.cinnamonclub.com
Carluccio's sizeable Italian package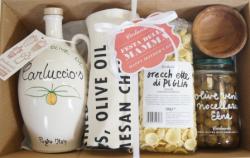 For the Mum who loves nothing better than a bulging storecupboard, Carluccio's  hampers are just the ticket. If she fancies herself as a bit of a spice girl, the Southern selection features chilli-ed green olives and a punchy Puglian olive oil, whilst the store's signature hamper includes pesto and a load of lovely cappuccino truffles.
Carluccio's Southern Italian hamper and the Taste of Carluccio's hamper are both priced at £29.95 and are available in-store or online until  Sunday, 10th March. For more information, visit www.carluccios.com
High tea up high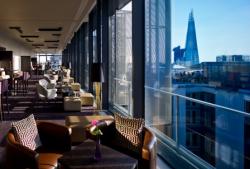 Skylounge, located at the pinnacle of the DoubleTree Hilton Hotel, is not the best venue for mothers with vertigo tendencies. If she's often got her head in the clouds, however, take her love for afternoon tea to new and lofty heights with a bargainous and extravagant spread. Scoffing finger sarnies and financiers, she'll be walking on air.
The Mother's Day afternoon tea costs £20pp. For more information and to book, visit doubletree3.hilton.com
Skylounge at the DoubleTree Hilton Hotel, doubletree3.hilton.com