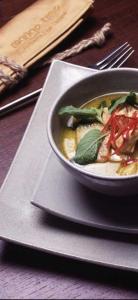 Although beer is the world's oldest and most widely consumed alcoholic beverage, its complexity and compatibility with certain cuisines is often overlooked. Fine-dining Thai restaurant, Mango Tree in Belgravia, is revealing how Thailand's best selling Chang beer enhances the delicate flavours of its dishes with a Street Food Beer Festival pairing menu, available from 5th until 25th October 2009.
With a cuisine historically influenced by Eastern and Western techniques, Thai food is a deliciously unique explosion of fresh tastes and textures. Sweet and sour, bitter and spicy, the host of culinary contrasts can be brought to life with a carefully considered brew. Through the Street Food Festival menu, executive chef Mark Read's astute palate and attention to flavour guides diners to a host of his creations that are all best enjoyed with an ice-cold beer. With money saving beer packages available, including five bottles at just £15, groups of two or more can really make a night of it and enjoy exploring why beer can be the sophisticated choice.
Starters
goong sarm rod
sweet, sour & spicy prawn skewers, with sesame and a mixed cress salad
£7.50
pla muek yang
barbecued squid with a spicy seafood sauce and carrot salad
£7.00
thai hae gun
deep fried pork and chicken mince parcels with green onion and water-chestnuts, served with plum sauce
£6.50
Mains
pla kra-pong pad tow see
stir-fried red snapper fillets with celery, ginger, spring onion and a soya bean sauce
£14.00
gaeng pa ruam mitr
mixed meat and seafood jungle curry with bamboo, peppercorns, kra chai, chilli and thai herbs
£14.00
pla nueng bauy
steamed pomfret fillets filled with a mustard green, pickled plum, ginger and garlic puree, served in a crispy carcase shell
£15.00
Dessert
kow niew dum
warm black sticky rice with taro, longon fruit, coconut cream and garnished with banana crisps
£5.00
Chang beer packages
3 bottles for £10 (normally £12.75)
or
5 bottles for £15 (normally £21.25)
So Indulge at the Street Food Beer Festival at Mango Tree from the 5th until 2th October and see for yourself how beer perfectly complements Thai cuisine.
Mango Tree, 46 Grosvenor Place, London, SW1X 7EQ, tel: 0207 823 1888 www.mangotree.org.uk