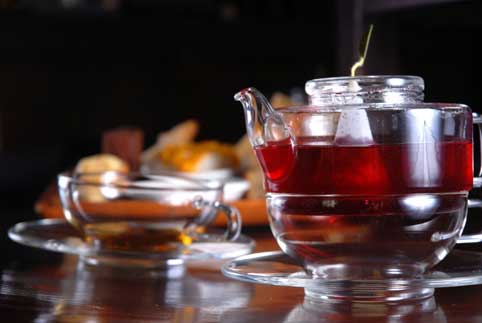 'You have to mash the bananas by hand, squeeze them through your fingers. you can't use a blender.' Mark Read Head Chef at Mango Tree and at Awana is telling me how to make Thai Banana cake, accompanied by hand gestures reminiscent of someone milking a particularly recalcitrant cow, 'you want the lumps,' he says. 'Like Guacamole?' I suggest. 'Exactly!'
With lunchtime service drawing to a close, and only some die hard groups left still eating and drinking champagne, 'recession what recession?', Mark has had a chance to leave his subterranean kitchen and supervise this Afternoon Tea tasting.
Your £15 gets you a spread and if you practice some serious plate loading you can make quite a meal of it. The mix is not all sweet, there is savoury too and the combination far from being unpleasant works rather well.
Pickled fish on toast sounds ominous but these are small, bite sized portions where the saltiness of the fish is not pronounced. Anyone that's ever had a taste for Patum Peperium, or Gentleman's Relish, that peculiarly British spread for toast, will enjoy these a lot. Also savoury are the Chicken Crisps which resemble pakoras that have been run over by a steam roller – the main taste is of the crispy case with just a hint of chicken inside.
Banana spring rolls have a touch of chilli inside which works well with the mushy sweetness of the banana while the banana cake is as good as any vegetarian cafe can turn out. Aubergine cups are dainty little taste bombs and while the Coconut Caramel Sauce looks rather attractive I fail to eat one – I have to confess I got addicted to the pickled fish on toast and was shovelling them in like peanuts.
All this comes with tea of course, a wide selection in elegant pyramidal tea bags. There are over nine to choose from including Earl Grey and English Breakfast and also including fine Jasmine and Green teas as well some fruit infusions.
Everything the Thais do they always do with elegance and charm and this afternoon tea is no exception. A nice alternative to jam and cream and worth taking the rest of the day off for.