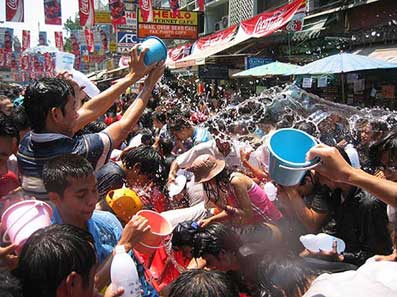 Belgravia's fine-dining Thai restaurant, Mango Tree, will celebrate Thai New Year with food, fruit carving, dancing and music as well as a chance to raise money for charity. Familiarly known as 'Songkran', the New Year water festival is a time to pay respect to elders, friends and family as well as being synonymous with the throwing of water, marking the end of the dry season.
Mango Tree will have food alongside unique Thai dancing, theatrical performances and an exclusive showcase of Thailand's stringed instruments including the 'cha khe', for guests to get a real glimpse into the heart of the country dubbed, 'the land of a thousand smiles'. Diners may also enjoy street food dishes from Mango Tree's very own stall, serving boat noodles and authentic desserts.
Mango Tree's £30 festival menu, courtesy of executive chef Mark Read
Starter Platter
Moo ma-now steamed pork slices in chilli, lemon and garlic with fresh herbs
Hoi Jor crab, prawn and water-chestnut wrapped in tofu
and deep fried, served with a sweet plum sauce
Peek gai yud sai corn-fed chicken wings braised in a spicy tomato
and red wine sauce with spring onion
Som tum som-tum of yellow turnip with peanuts,
snake bean and yum sauce

Main Platter
Gaeng pa nuer beef brisket jungle curry with bamboo and fresh peppercorns
Tom yum ruam mitr mixed tom yum with chicken, beef, prawns, mussels and cuttle fish
Pla sarm rod deep fried red snapper fillet with a sweet, sour and spicy sauce
Kow ob gai chicken with butter roasted fragrant rice and a ginger and mushroom sauce

Dessert
Sakoo gati sago and cantaloupe melon with coconut cream
As part of the celebrations, throughout April, Mango Tree will also be supporting WaterAid, a charity helping to overcome poverty by enabling the world's poorest people to gain access to safe water. Diners at Mango Tree will have the opportunity to donate 50p each for unlimited tap water, with all donations going straight to WaterAid. This is part of the charity's Tap into WaterAid initiative, where restaurants across the UK are encouraging their customers to make a small donation in return for tap water.
So for a real taste of Thailand in all its glory, join Mango Tree on the 8th April to celebrate Songkran.
Mango Tree's Thai New Year menu at just £30 per person will be available for lunch and dinner from 6th – 19th April 2009.
46 Grosevnor Place, Belgravia, London SW1X 7EQ