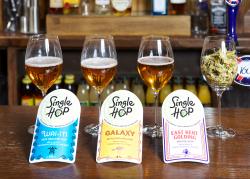 Marston's are celebrating 2012 by producing 12 single hop ales – that is, ales all produced in the same way to the same 4% ABV but using a different hop.
The hops are sourced from nine countries – Poland, America, Germany, France, Slovenia, Australia, New Zealand, Czech Republic and England – and customers will be encouraged to vote for their favourites on www.singlehopale.co.uk.
Already gone are January's New Zealand Wai-iti and February's Australian Galaxy. March's hop of choice is a little closer to home with England's East Kent Goldings.
Marston's Category Manager, Ian Ward, comments: 'These Single Hop Varietal ales are producing really vibrant flavours. They allow each hop variety to really shout. Blending three grape varieties for Champagnes, or several hop varieties for beer, often leads to complexity and consistency of style; but using just one grape variety in Blanc de Blancs Champagnes (Chardonnay) or just one hop variety in our Single Hop Ales seems to produce drinks with greater elegance and greater clarity of flavour. The hops' individuality shines through, and customers are starting to be more aware of the flavours hops can provide in their beer."
To find out more about the single hop ales on offer, visit www.singlehopale.co.uk.