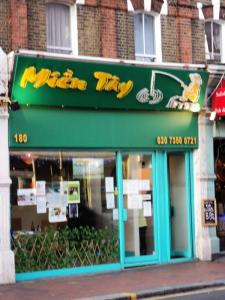 It was a little ambitious, inviting a bunch of food writers and bloggers for a meal with a view to their tasting some 11 dishes paired with their new range of 11 wines all in the space of two hours, but the people at Mien Tay in Clapham, did just that recently. We didn't quite get through this potentially mammoth feast, but it was nevertheless a valiant effort on the part of all concerned and I believe there were sore heads aplenty the following day – mine was one of them.
Not previously having a licence, Mien Tay's diners were invited to bring their own. While some of us welcome this, there is of course the drawback that you don't know that the wine you have chosen to bring with you will go with the food that you have yet to select. Having recently been successful in applying for their licence, Mien Tay has been working with the people from Bibendum to bring together a short wine list that matches well with the range of dishes they have on their menu. Having got about half way through the menu and wines – all the whites a rose and a red – during the evening, guided through the task by Bibendum's Willie Lebus, with this sampling, albeit shorter than intended, me and fellow foodiescribes had a fair idea what diners might expect from the list when choosing their wine with their meal.
I have to say that Bibendum has come up with some excellent selections, we tasted some lovely wines, with vibrant flavours, which supported the beautifully tasty dishes that Mien Tay chose to serve us from their menu very well indeed. The cuisine at Mien Tay is Vietnamese and each dish that we tried had great flavours and textures and there were some perfect marriages of dishes with wines. For example, the Dolomiti Pinot Grigio, Alois Legeder 2009 had a tangy nose to it and a fruity flavour with a zingy edge and some length on the tongue, which went very well with two of Mien Tay's lovely dishes, the salt and pepper tofu, which softened it, but left good fruitiness on the palate as well as with the steamed sea bass with ginger and spring onion, which was divine. It had sufficient character to stand up to the dish and its bold flavours.
There were many more wines to get through and a huge number of dishes and from those we did have, the Picpoul de pinet had lovely tangy green fruit flavours, particularly apple, together with lemon and tropical fruits and this paired beautifully with a mango and dried beef salad, making the wine taste more subtle but still beautiful. Some seriously crunchy spring roll which had sweet vibrant flavours made the wine's fruitiness and its acidity grow. Augostinos Sauvignon blanc, Bio Bio had great tang, citrus and gooseberry notes and a lovely elegant wine, stood up well to salt, pepper and garlic squid, which was beautifully cooked. We only got to one of the reds , the Augostinos Maipo Merlot, which had a big fruitiness – forest and blackberry fruits bounced in the mouth and this supported stir fried goat and galangal as well as dish of beef with lemongrass wonderfully. I could go on, but I think you get the message.
Mien Tay, in introducing their wine list, have chosen to keep their mark-up on those wines at a very reasonable level, unlike some restaurants. I understand that it is not unusual for this to be around £5 per bottle. This means customers will be getting something excellent to drink at a competitive price, some as little as £12 per bottle. In addition all are priced by the glass, so if diners want to select different wines with each course they can get potentially the best pairing for those dishes.
Mien Tay is serving some amazingly good food and from mid-October they will have a wine list that they have had great advice in selecting. This is a restaurant that is already popular, you really should go there and try it for yourself, I loved what I had, I'm sure you will.
Mien Tay, 180 Lavender Hill, Clapham/Battersea www.mientay.co.uk