Moti Mahal is high-end, but low-key. So low-key in its outward appearance that we miss the entrance- the companion notes,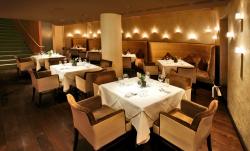 'it's designed to keep riff-raff like us boho types out'. But then this is a venue that has no need to shout for attention. And when we finally bumble in to the elegant dining room, we're treated less like riff-raff and more like royalty.
Sat opposite a fine gentleman dressed to the nines in his smartest red tartan cravat-and-trouser combo, we feel somewhat under-dressed. My companion's a wee bit jealous, vocal in his aspiration for a similar sartorial style in his own dotage. But once we're draped in white linen napkins, sipping fruity Prosecco-based aperitifs in louche style, attire ceases to matter. Now it's all about our growling stomachs.
We're presented with what, at first glance, could be a vegetable cornucopia designed to adorn the table. But the instruction is to treat the platter as a DIY salad bar- and, as a duo of demi-vegetarians, we need little encouragement. Making ersatz lettuce wraps of tomato, cucumber and onion, seasoned liberally with chat masala and curry-leaf salt from tiny mortars, dribbled with mustard oil, we are nothing more than kids let loose in a candy shop.
It's a great idea- tooled up, the daunting, impossible-to-tackle plate of whole veggies that often goes un-eaten  in a Lebanese or Persian place are, here, ripe for the picking- or slicing, chopping or hacking however you see fit. But there's only so far salad can take you. We're here for the Diwali tasting menu, delivered slowly to the table in a measured drip-feed that's simply delicious agony.
First up, chicken momos given the pretty frills of Chinese har gow rather than the homely'Cornish-pasty' crimp. Fantastically garlicky enough to be avoided on a date, it's handy our only amore is directed food-wards.  Soft shell crabs are huge, handsome mahogany specimens our waiter looks so keen on I invite him to join us. In fact the extra mouth would solve our pani puri dilemma- three crisp shells for single-bite consumption, two of us?
We break the impasse by filling two with tamarind-mint water and gulping down as etiquette dictates, and messily smash the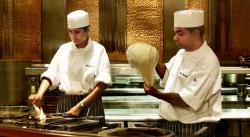 third and eat it dry, as etiquette does not. Etiquette also means the kindly staff cover up our tablecloth misdemeanours as they lay the table for mains. The various splotches could be down to our Chablis consumption, but we prefer to see them as visual appreciation of the meal.
There's more'appreciation' to come with the scooping of a traditional Rajasthani lamb maans, and a solid example of the black daal that's become the standard of the high-end Indian restaurant, with pillow-soft naan and a paneer-onion kulcha unexpectedly reminiscent of a low-rent packet of cheese'n'onion. And every bit as finger-lickin'. A crisp-skinned fillet of stone bass atop spiced green beans and cherry tomatoes raises the tone again, almost European in its execution.
After devouring a dainty stack of rather nifty wild mushroom bhajis, super-thick, super-cool raita, and Very Very Good saffron rice, we look at each other, perplexed. Not a scrap remains but we're merely replete, not stuffed. Almost unheard of with an Indian feast menu, and pleasant indeed. It means full appreciation is afforded to a similarly-refined trio of gulab jamun, warm almond halva and silky chestnut ice cream, even leaving room for bang-on liqueur coffees. Very nice it feels too.
It's a rare treat to experience a menu that's so well-judged in terms of balance, pace and portioning. Being two of the capital's greediest gannets, we could complain there wasn't enough. Except there was, and every bit was a quality morsel worthy of sufficient savour. In a world of restaurants where diner demand dictates that'quantity' more and more stands in for'quality', Moti Mahal bucks the trend. All killer, no filler.
Moti Mahal, 45 Great Queen St, WC2B 2AA, www.motimahal-uk.com