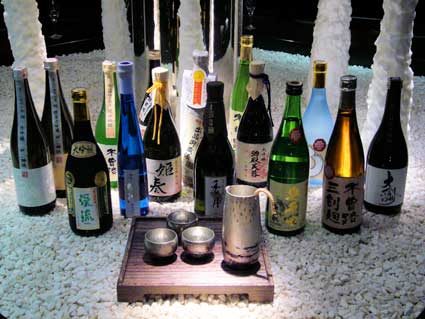 Saki, the Japanese restaurant and bar in Smithfield is renowned for its excellent sake list and for promoting Japan's favourite drink among London's discerning diners. This March, Saki dedicates the whole month to sake from Japan's Nagano prefecture.
Saki is the first UK restaurant to feature an exclusive range of premium sake from Nagano. This area of Japan is reputed for the quality of its rice and water – two main ingredients used in sake brewing, giving Nagano produced sake superior qualities. Several of the sakes launched in March have won awards in Japan and internationally.
Nagano sake will be available to try from the bar and the restaurant at Saki from 10th of March. Some of the bottles will also be available for sale from the Saki shop.Many of the 15 sakes featured are certified as NAC (Nagano Appellation Controlled) and brewed using only local ingredients. The selection is extensive: from fruity, aromatic and delicate to full bodied, from freshly pressed to mature sake. Only premium sake, such as junmai, ginjo and daiginjo will be presented and the selection will include:
• Kisoji Sanwari Koji Junmai (Yukawa Syuzoten, Nagano) – a full-bodied junmai with balanced acidity and sweetness. Brewed with Miyama Nishiki rice (out of which 30% is malt rice) resulting in concentrated rice umami. Best appreciated as warm sake
• Kogetsu Hiden Daiginjo (Daishinsyu Breweries Inc., Nagano) – clean and smooth daiginjo with a peach aroma and a silky texture. This is an undiluted and unpasteurized sake aged at 2ºC for two years to develop a delicate harmony. The sake is made with Yamada Nishiki rice polished to 35%. Gold medal winner at the IWC2008 for Daiginjo category
• Asashibori Syuppin Chozosyu (Endo Brewing Nagano) – a freshly pressed, undiluted sake, which is chilled for 10 months to balance acidity. This double Gold Medal winner (International Wine and Spirits Competition and Monde in 2007) has excellent volume and rich rice umami
Traditional dishes from Nagano will also feature on the restaurant menu at Saki in March including Shinsyu-Mushi (Soba noodle stuffed turbot with Japanese mushrooms) and Kiku-Imo (Miso marinated Jerusalem artichoke).
Types of premium sake:
Junmai – sake made from white rice, koji and water, nothing else added
Honjozo – sake made using rice polished to 70& or less of its original size.
Ginjo – sake made using rice polished to 60% of its original size
Daiginjo – sake made using rice polished to 50% or less of its original size
Sake can be enjoyed chilled (hiya), ambient or warm (atsukan)
Saki Bar and Food Emporium opened in February 2006 in Smithfield. The restaurant is renowned for its authentic and contemporary Japanese cuisine, prepared by classically trained chefs. Saki Bar is equally known for its extensive drinks list, which includes an excellent selection of sake and other Japanese spirits as well as an innovative cocktail list.
Saki Bar & Food Emporium
4 West Smithfield
London EC1A 9JX