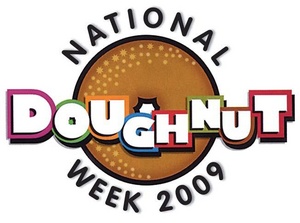 It's time for a treat! National Doughnut Week returns from Saturday 9th – Saturday 16th May and it's time to buy someone special a delicious, mouth-watering doughnut and, at the same time, raise money for a very worthy cause.
Through the sale of doughnuts at their outlets, participating bakers across the UK, will be helping to raise money for The Children's Trust, a national charity which provides care, education and therapy for children with multiple disabilities and complex health needs, and rehabilitation services to children with an acquired brain injury.
With the help of the kind-hearted public to support National Doughnut Week, sponsored by BakeMark UK, this annual event aims to raise as much money as possible to beat last year's figure of £30,000. There are lots of fun ways to raise money: holding a doughnut morning; taking on a doughnut-eating challenge with friends/work colleagues, or simply by holding a doughnut-themed event.
To find out more about how you can raise money, visit The Children's Trust's website at www.thechildrenstrust.org.uk/doughnuts.
To make credit or debit card donations, call 01737 365027.
Ainsley Harriott, supporter of The Children's Trust National Doughnut Week said: 'This is a great opportunity to buy some delicious treats and help raise some dough for a very worthy cause, so bakers get baking and all you lovely people get buying and help make a difference to some very special children."
The Trust's latest appeal, as part of its 25th anniversary celebrations in 2009, will help more children from across the UK to access the specialist services it provides.