Every foodie knows that cuisines from countries where different cultures collide is by far the most appetising, the mix of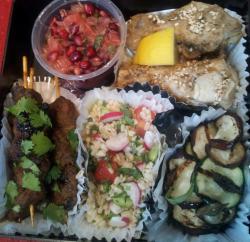 minorities seasoning the food like a particularly piquant masala. And Burma is one that boasts a pretty decent dose of diversity; drawing from Indian, Thai and Chinese culinary legacies.
For decades, if you wanted to get on the road to Mandalay without leaving the UK, your options were severely limited. To just a single restaurant by that very name, in fact. Run by two brothers on the Edgware Rd, Mandalay had the market sewn up. But supperclubs and pop-ups are revealing a delicious tumble of unsung cuisines to Londoners – and Burmese is the latest wheeze.
Neha Misra has both Burmese and Bengali blood, and sharing her heritage through food is what's got her blood pumping. The supperclub is just one arm of the multi-limbed'Neha's Cooking', which also offers cookery lessons and rather nice handmade spice blends. This lady is'Big on Family, Love and Flavours', and her self-penned mantra is evident in all she does.
Guests at this Thursday's 5-course Burmese Banquet will be feeling some pretty big love for those flavours, and will probably leave feeling part of the family. With her menu, Neha's aiming to introduce diners to more than just the food – serving up rice paper rolls and fish cakes peppered with trivia and bowls of the traditional noodle dish,'khow swe', brimming full of both soup and stories.
For pud, it's a little less traditional, with a sozzled watermelon and lychee creation. Neha is committed to celebrating and sharing her edible traditions, but is by no means enslaved by them. Much like the country itself, she uses and fuses the myriad influences at her disposal to create corking cuisine. This is Neha's highly personal take on Burmese, and it's sure to please.
The 5-course Burmese Banquet by'Neha's Cooking' is a BYO feast. It takes place on Thursday 23rd May at 7.30pm in West London, and costs £38pp. For more information and to book, visit www.nehascooking.com