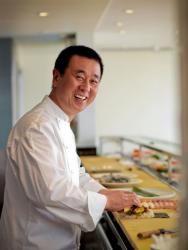 Chef Nobu Matsuhisa will be hosting the Tomodachi Charity Dinners in London on Wednesday 4th May at Nobu London, and Thursday 5th May at Nobu Berkeley St.
Both nights will include a reception from 7pm with a sit-down dinner from 8pm. Tickets are priced at £250 per person or for £1,000 you will have the opportunity to dine with Nobu Matsuhisa himself. If you're thinking of heading to Nobu on those two days then you will definitely need to buy a ticket as the restaurant will be closed to the public.
There will also be exclusive limited edition copies of the Nobu West Cookery Book, with cover designed by Damien Hirst, on sale on the night. Priced at £250, the cookbooks will be signed by both Nobu and Hirst.
All proceeds from tickets and books sold will be donated to the Japan disaster appeal.
To book tickets, contact Amir Jati (amirj@noburestaurants.com 020 7447 4777) for the Nobu London dinner on the 4th or Roberto Simic (robertos@noburestaurants.com 020 7290 9242) for the Nobu Berkeley St dinner on the 5th.
Nobu London is at 19 Old Park Lane, London W1K 1LB and Nobu Berkeley ST is at 15 Berkeley Street, London W1J 8DY