If you're struggling to give up meat, then OmniPork could be your new food friend. We try some of the OmniPork dishes at Royal China.

OmniPork is 100% plant-based 'pork' made from non-GMO soy, pea, shiitake mushroom, and rice. It's high in protein and fibre, low in saturated fats, and contains no added preservatives.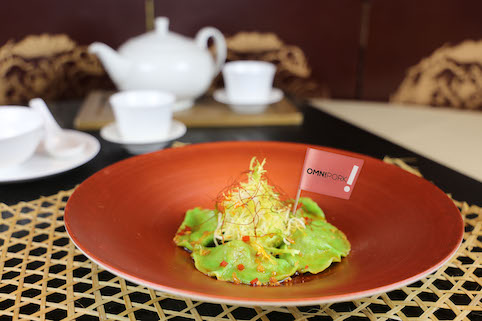 Royal China Club is one of London's older, high level, Chinese restaurants. Every dish from Royal China's award-winning chef, Billy Wong is beautifully presented and delicious, so if he feels he can use OmniPork for his discerning clientele, then there must be something in it.
Of course no deception is involved, the OmniPork menu stands separate from the main menu.


But does it taste like pork? Only one way to find out.

It comes in three formats: OmniPork Mince, OmniPork Strip and OmniPork Luncheon and Billy Wong is, as I say,  a convert.

"It was a big surprise to me when I first tried the OmniPork Luncheon and Strip. The texture, taste and colour have no difference compared with real meat, it works well with any ingredient and seasoning. Most importantly, it is healthier than real meat as it contains no cholesterol or hormones, and is rich in protein and iron."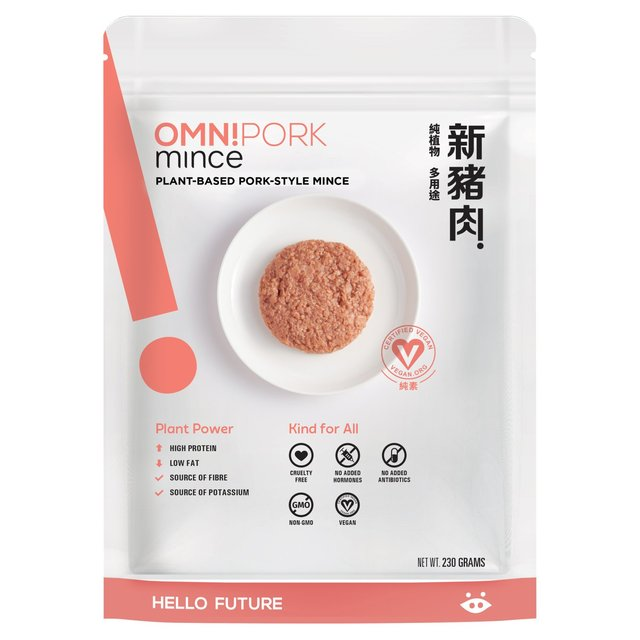 And yet it is a familiar menu; for example Bao BBQ buns, or stuffed tofu with OmniPork, grilled OmniPork with lotus root patty in spicy sauce, crispy tofu skin roll with assorted mushrooms and OmniPork luncheon meat etc
I have to say I find the name OmniPork a bit off putting, it reminds me of the kind of sci-fi novel where at the end you find the foodstuff they've all been eating is, well, human.
Or when Krusty the Clown in the Simpsons is asked what animal is in his Ribwich burger he replies, "Think smaller, and more legs."
Of course OmniPork is pure vegan, but I still think the name could be better.

So we sat down and ordered a few dishes. First up, crispy tofu skin roll with assorted mushrooms and OmniPork luncheon.

Presentation-wise it could not be faulted, as one expects in this restaurant. The rolls came with a dipping sauce and some fiery chilli sauce. The texture and taste were both excellent and if I hadn't been told it wasn't pork, I wouldn't have noticed.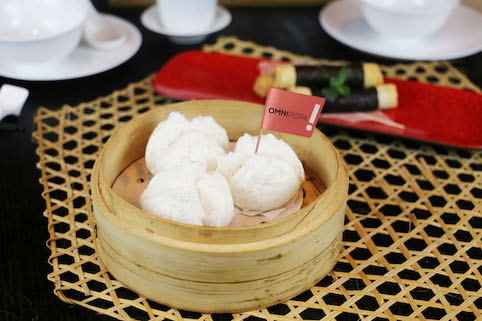 More of a test were the BBQ Bao buns. They looked correct, big and fluffy but would the centre be right? Well once we learned to let them cool a bit, we found again very hard to criticise or spot any difference.

My guest was a film director currently working on a project to promote veganism and its role in combating climate change and he was impressed as much as I was.


A final dish was one of my favourites; Braised Tofu Stuffed with pork, or in this case OmniPork

Again, no discernible difference. Perhaps if I'd had a plate of real pork version it might have been possible to tell them apart but that's not really the point.

The thing is that all the dishes we tried were delicious, and there are twelve to choose from, see below.

If you're vegan, or cutting down on meat, OmniPork is certainly the way to go.

OmniPork Mince is also now available to purchase online at www.ocado.com, ideal for whipping up meat-free alternatives of your favourite pork dishes at home. RRP £4.50 (230g)
The Menu

紅燒新豬肉釀豆腐 (£12.8o)
Braised Tofu Stuffed with OmniPork
香辣新豬肉蓮藕餅 (£12.8o)
Grilled OmniPork with Lotus Root Patty in Spicy Sauce
豉汁新煎釀三寶 (£13.8o)
Assorted Vegetables Stuffed with OmniPork in Black Bean Sauce
避風塘新豬肉釀茄子 (£13.8o)
Deep-fried Aubergine Stuffed with OmniPork in Dried Chilli & Garlic
新肉絲乾煸四季豆 (£12.8o)
Stir-fried OmniPork Strip with French Bean
香葱彩椒炒新肉絲 (£12.8o)
Stir-fried OmniPork Strip with Bell Pepper
Dim Sums
蜜汁新豬肉叉燒包 (£6.8o)
Steamed BBQ OmniPork Bun (Char Siu Bao)
紅油新豬肉餃 (£6.8o)
Poached Chilli Dumplings Stuffed with OmniPork
避風塘新豬肉燒賣 (£7.8o)
Deep-fried OmniPork "Siu Mai" with Dried Chilli & Garlic
菌皇新餐肉腐皮卷 (£6.8o)
Crispy Tofu Skin Roll with Assorted Mushrooms and OmniPork Luncheon
沙葛新餐肉春卷 (£6.8o)
OmniPork Luncheon and Jicama Spring Roll
香茜新豬肉腸粉 (£7.8o)
OmniPork Rice Rolls with Coriander (Cheung Fun)


Royal China Club, 40 – 42 Baker Street, Marylebone London, W1U 7AJ
Price £6.80 – £13.80 (per dish) 
June 2021 – July 2021