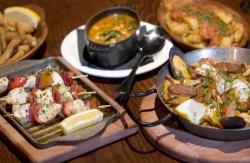 Summer may be over but Ortega, with restaurants in London and Milton Keynes, is banishing the post-holiday blues with a new menu celebrating the best in Spanish cuisine.
All the restaurants are serving up an even wider choice of tapas and paella dishes, as well as a selection of grill dishes and tempting desserts.
And for those who enjoy a tipple or two, Ortega will also be hosting a Rioja Festival throughout the autumn, inviting diners to taste match variations of the Spanish wines with a variety of tapas dishes.
Visitors during Ortega's Rioja Festival can enjoy a tasting of the restaurant's Rioja selection with matching tapas dishes specially selected to help enhance the flavour of each wine. A tasting of six wines from the Rioja selection, paired with six specially selected tapas dishes, along with bread and olives will be available for £15 per person from today.
Capturing all the flavour and feeling of a typically Spanish bar and cantina, Ortega provides the perfect atmosphere in which diners can eat, drink and fiesta to the sounds of salsa and flamenco.
Paella is an Ortega speciality – and perfect for sharing. Cooked in traditional Valencian style, opt for the traditional seafood-spectacular – Pescado, featuring mussels, salmons, prawns and dory. Alternatively, try the mouth-watering meat-free Vegetariana, filled with fresh peppers and field mushrooms
There's never been a bigger selection of tapas on the menu – from Pollo con Champinones – chicken and mushrooms in a cream, garlic and white wine sauce, to Croquetas de Queso Manchego – melted Manchego cheese croquettes with orange blossom honey – you'll be spoilt for choice.