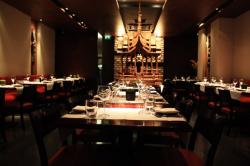 To celebrate Maldon Oyster Festival this year, fine-dining Thai restaurant Patara is collaborating with the Maldon Oyster and Seafood Company to bring oysters to its menu.
The menu will be available at all four Patara restaurants in London throughout October and November 2011
You can have them raw or cooked with a Thai twist. Have them with mint, coriander, lemongrass, Thai vinaigrette, lemon and crisp shallots or deep-fried in soda batter served in its shell with bean-sprout and chilli sauce.
The oysters are priced at three for £5.50 and six for £9.50.
For more information, visit www.pataralondon.com