Pan fried sea bass with Spanish olives, piquillo peppers and sherry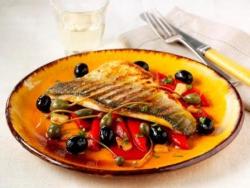 Olives might be the nibble-with-drinks we turn to most often. Some might also drop one into a sneaky Martini. Throwing them into a salad – well, we've all done that. And perhaps added them to a tagine, for an exotic touch.
Here's your chance to make something even more impressive, creating an authentic taste of Spain using Spanish olives and one of our most favourite fish: sea bass.
Serves 4
4 fillets of seabass (about 150g each)
1 tin of pitted purple Spanish olives
1 tin of piquillo pepers
1 handfull of Spanish caperberries
100 ml of Spanish olive oil
4 garlic cloves
1 small glass of dry Fino sherry
Cracked (or freshly ground) black pepper
Flakes of salt
2 sprigs of flat parsley
Method:
Wash and pat dry the seabass fillets.
Drain the olives.
Halve the piquillo peppers and remove any seeds.
Drain the caperberries.
Finely chop the parsley.
Peel and thinly slice the garlic cloves, fry in half the olive oil over a medium heat until golden.
Add the piquillo peppers and sauté for 30 seconds.
Add the purple Spanish olives and caperberries and sauté for 30 seconds.
Season with salt and pepper and add a splash of Fino sherry. Let the alcohol burn for a few seconds.
Sprinkle in the parsley.
Season to taste and keep the mixture warm.
Heat a non-stick frying pan over a high heat and add a little Spanish olive oil.
Fry the seabass fillets skin side down until ¾ done, turn the fillets over, season the skin with the salt flakes and cook for one more minute.
Place the seabass fillets on a bed of the Spanish olives mixture; drizzle with olive oil and serve.
For more information, including more mouth-watering recipes, nutritional information, interesting facts and serving suggestions, visit Olives from Spain.
Follow Spanish Olives on Twitter: @Taste_of_Spain or on Facebook facebook.com/Taste-of-Spain.com