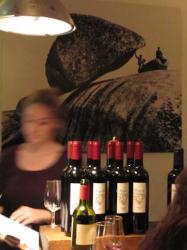 Of the many food trends that have sprung up all over London like mushrooms in the last year, tapas eating is the one I'm happiest to indulge in. Ok it's probably raining outside and the air on the street is laden with unleaded, but inside a tapas bar it's noisy, warm, busy and the jamon is gently swinging from the ceiling.
In Spain you can wander from tapas bar to tapas bar all evening, sampling the specialities and downing a glass before moving on. That's because in most Spanish towns tapas bars are as ubiquitous as mobile phone shops are over here – i.e. about every 50 yards. In London though you have to plan your walk if you're not to find yourself running out of steam before you hit the next ham.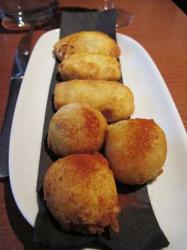 The London Restaurant Festival feels your pain and so have created the Tapas Passport. The Tapas Tour recreates the spirit of bar hopping that is typical to the city of Logroño, capital of Rioja, where people visit different tapas bars tasting speciality tapas dishes alongside glasses of Rioja. Londoners will be able to purchase a Tapas Tour passport, allowing them to hop across five of London's best tapas restaurants Brindisa, Pix, Copita, Fernandez & Wells and Iberica at two different time windows throughout the day (12-4pm and 4-8pm)
We tried it, we loved it especially the Brindisa croquetas and the bombas at Brindisa as well as the lovely wines.
Find out more about the tapas tour and buy tickets at
The tours are in partnership with Wines from Rioja, LRF's Official Wine Partner.
8, 9 and 15, 16 October, noon-4pm, 4-8pm, £50