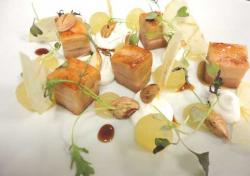 Matt Gillan Head Chef of The Pass at South Lodge is organising an All Stars Dinner on the 13th, 14th and 15th October with a mix of Michelin starred and aspiring chefs taking part including Daniel Clifford and John Campbell. Over the course of the three days, guests will indulge in a 9 course menu created by three different chefs, each day three news chefs will be at the pass. Tickets are still available, but if not why not try this great recipe from Matt?
South Lodge Hotel, Brighton Road, Nr. Horsham,
West Sussex, RH13 6PS
Pork belly
1 small pork belly, skin removed
Maple syrup
500ml chicken stock
Heat a large frying pan with a little oil. Season the belly with salt
Place the belly fat side down in the pan and colour. Turn over. Allow to colour a little then add the stock.
Place in an oven preheated to 140°c and cook for 4 hours
Remove from the oven and allow to rest.
Cut into cubes. Heat a frying pan with some maple syrup and roll the diced pork belly around in it. Reduce to syrup. Remove from the pan,
Goat's cheese
250g goats cheese, rind removed
100g cold water
Break up the goats cheese and put into a food processor. Blend until the cheese comes together. Slowly add the water until the consistency resembles mayonnaise.
Put into a piping bag.
Apple crisps.
1 Granny smith apple
200g caster sugar
200g water
Bring the water and sugar to the boil. Finely slice the apple and put into the syup. Remove when it becomes transparent, using a slotted spoon. Place individual slices on a non stick mat or paper and allow to dry over night in an oven set at a very low temperature. Maximum 100°c.
Pickled apple
2 Granny smith apples
Caster sugar
100g White wine vinegar
Peel the apples. Using a melon baller, scoop out as many balls as possible from the apples. Reserve the remaining apple. Weigh the apple balls. Weigh the same amount of sugar and put both into a sauce pan. Add enough water to soften the sugar. Bring to the boil and cook for 3 minutes.
Remove from the heat and add the vinegar. Allow to cool.
Apple puree
Reserved apple trim
Trim the remaining apple from the core and put into a saucepan. Add 2 tablespoons of water and cling film the pan. Bring to the boil and cook until soft. Blend to form a smooth puree.
Finishing touches
Roasted hazelnuts
Celery cress or leaves
Apple syrup.