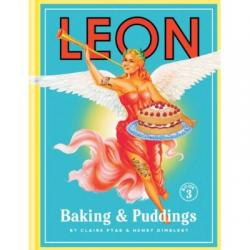 Leon: Baking and Puddings is the third member of the Leon cookbook family. The similarities between the siblings are evident but this latest addition is the most indulgent. Filled with cakes and breads bulging out of tins, dripping sorbets and ice creams and fruit caramelising at the edges, it should be welcomed for those very reasons.
There are now 11 Leon restaurants in London. The first was opened on Carnaby Street in 2004 with the aim of bringing fresh and wholesome fast food to the hungry residents of the capital. This book, Baking and Puddings, is co-authored by a founding member of the Restaurants, Henry Dimbleby, and Claire Ptak, a former pastry chef at Chez Panisse in California and now chef-proprietor of Violet Cakes in London.
Working their emphasis on fresh and healthy food into a cookbook on baking and puddings might seem difficult, but they try their darndest. Three-quarters of the recipes are sugar, dairy, wheat or gluten free. I imagine those with allergies and intolerances will appreciate the thoughtful second index listing recipes according to their ingredients.
The appearance is as bright and varied as ever, but less busy. Perhaps when it comes to a precision art like baking, the risk of distracting cooks around the country with a jaunty photo or illustration was thought too great. It still, however, charmingly captures the buoyant personality of the restaurants, the people cooking for them, and their customers.
Besides Baking and Pudding's distinctive Leon appearance, the book presents a set of recipes that perfectly reflects both the interests and requirements of this latest generation of bakers while introducing them to some ideas they might not previously have come across. Current trends get a look-in, but some classic recipes with a Leon twist are included too.
The book's composition also shows a consideration for those loyal Leon customers who know the restaurants' sweeter wares off by heart but are less acquainted with the intricacies of baking: the first section is a comprehensive introduction to ingredients, methods and equipment. That is not to say, however, that this third book contains as much introductory information as the first. Instead, the emphasis is strongly on the recipes – a good thing in my opinion.
These pages of attractive recipes for all times of day and year are worthy of any baker's shelf. And I will always have a place on mine for a cookbook with a ribbon page-marker.
{ISBN:184091579X}