Bourbon is not something I can claim much knowledge of and I don't know many people my age who drink it. For many of us, Jack Daniels is bourbon. Whilst at eighteen it was seen as way of imparting an air of slight sophistication, it has now been abandoned in favour of drinks with more class.
Thus when invited by Maker's Mark to a steak and bourbon tasting at JW Steakhouse I jumped at the chance to learn more. It was an opportunity to meet their master distiller Greg Davis and learn some more about the process behind the drink.
The evening started off with some mint juleps. I enjoyed these immensely because you could actually taste the flavour of the bourbon. I later discovered that this is because a Julep consists solely of bourbon, sugar and mint. Over some canapés I learnt more about this spirit that in many ways defines the southern states.
Whilst these days there are a mere eight distilleries in the Kentucky area, prior to prohibition there were well over two hundred. How the distilleries survived prohibition is a question that remains unanswered but speaks to the ingenuity and determination of people when they want to drink.
Prior to dinner, Greg took us through the transformation of the spirit, from the raw distillate right through to an over aged Makers Mark. Makers is aged for around six years, which is young in comparison to many whiskeys. Having tasted it at ten years I can see why. It was overly oaky and tannic, lacking the smoothness of normal Makers. I learnt that this was because the intense heat results in a much faster maturation period compared to the dour Scottish weather. There is no age stamp on the bottle though. This is because a panel of tasters blends various ages of the bourbon to create a specific taste rather than age.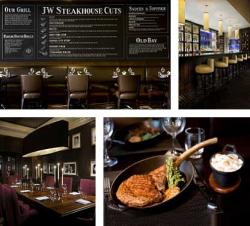 My host informed me that bourbon is a classic accompaniment to steak in the southern states, so we washed down the USDA prime beef with some expertly made manhattans. The steakhouse was classic Park Lane, wood panelling and mirrors. The food, from the marshmallows on top of the sweet potato mash to the creamed spinach, was classic American.
Pudding, naturally, consisted of various bourbon filled delights. For me, a bourbon sorbet with chocolate cake and cream. For my neighbour, a very dapper man from GQ, a bourbon whoopie cake and a bourbon milkshake.
The evening was immensely enjoyable and piqued my interest in trying more Bourbons. It was also interesting to see how tender the USDA beef was, with a totally different flavour to that of your normal grass feed beef. If you've never had a bourbon other than Jack Daniels, or indeed at all give it a try. I'm sure you'll be justly rewarded.
I was a guest of Makers Mark and the JW Steakhouse.