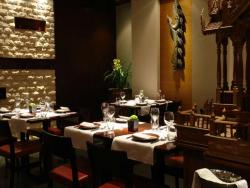 Fine-dining Thai restaurant Patara and luxury resorts group Six Senses Resorts and Spas have joined forces to create a menu inspired by Six Senses, which will be available at all four Patara restaurants in London during August and September 2011. Six Senses is also offering Patara diners the chance to win luxury Six Senses treatments when they dine from the new menu.
Inspired by Six Senses own signature dishes and based on the 'SLOW LIFE' philosophy (Sustainable, Local, Organic, Wholesome – Learning, Inspiring, Fun Experiences), the menu uses high quality, seasonal ingredients, selected and combined to nourish the body and the mind while incorporating the fine dining experience of Patara.
Devised by Six Senses Executive Chef Bryan Burger, the menu offers guests a lighter alternative to traditional Thai dishes with a focus on health and flavour. Highlights from the menu include Miang pla Salmon – salmon and herb Thai salad with chilli lime dressing; Goong Man Korn Op – oven-roasted lobster in a lime and chilli marinade served with black sticky rice and spiced mango foam; and Goong Pow, grilled tiger prawns with kaffir lime dressing served on brown rice infused with green curry paste.
The Six Senses-inspired menu also includes a selection of raw food recipes such as Raw Vegetable Roll with Thai Spice Sauce or Chilli-Rubbed Tartiki with Thai Papaya Salad. The concept of raw food cuisine is based on unprocessed and uncooked plant foods, such as fresh fruit and vegetables, sprouts, seeds, nuts, grains, beans, dried fruit, and seaweed. Dishes are prepared below 42C° to retain enzymes and nutrients, which assist digestion and have numerous health benefits.
www.patarathailand.com
Patara Soho 15 Greek Street, W1D 4DP
Patara Oxford Circus 7 Maddox Street, W1S 2QB
Patara Knightsbridge 9 Beauchamp Place, SW3 1NQ
Patara South Kensington 181 Fulham Road,SW3 6JN