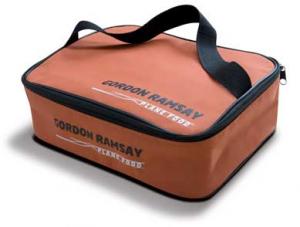 Don't fancy a 'plane ' sandwich? Ho Ho. Well Gordon Ramsay Plane Food at Heathrow's Terminal 5 offers passengers an exclusive picnic service known as Plane Picnics. An addition to the Great Gordon's latest airport venture, this British tradition has been designed for those who want to spend more time exploring the terminal, or as we call it 'shopping' , but are still fancy trying the food on offer. It's also perfect for those travelling on short haul flights.
The prepared picnics include some of the restaurant's signature dishes including Caesar Salad, Smoked Salmon Croque Monsieur and Chocolate and pecan brownie with crème Chantilly. All the food can be taken onboard, or simply eaten in one of the many seating areas in the terminal. Probably with someone else's child falling over your feet and an Australian backpacker asleep and dribbling on your shoulder.
Gordon Ramsay commented, 'Time is important, especially when it comes to travelling, so I was eager to devise a menu that passengers on-the-go could also enjoy. Picnics are a great way to bring back the romantic side of travelling and reflect one of England's best-loved traditions."
Plane Picnics are available all year round from 7:00am- 9:00pm daily and are priced at £11.95 for 3 courses. The menu changes seasonally but currently includes: Selection of mini breakfast pastries, Caesar salad with pancetta and soft boiled egg, Smoked salmon and cream cheese with apple and walnut salad, Roast beef and watercress with green bean salad, Chocolate and pecan brownie with crème Chantilly and English cheese selection with quince and biscuits.