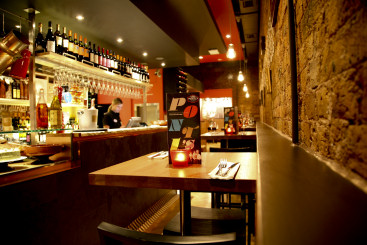 Ponti's Italian Kitchen is the latest offering from the family behind the renowned Ponti's cafes. Established since 1963, and once spearheaded by founding father, Pino Ispani, Ponti's now looks to a new era under the guidance of Pino's son, Stefano. Heralding a new beginning for Ponti's, Ponti's Italian Kitchen offers simple Italian home cooking at reasonable prices. Inspired by the home of Pino, Italy's food basket, Emilia Romagna, is the main source of the restaurant's recipes. The use of family suppliers ensures that the quality of the food remains at its highest, delivering a true taste of Italy within an informal and welcoming setting.
With two sites currently in London on Duke Street (54 Duke Street, London W1K 6JN), and John Princes Street (5-7 John Princes Street, London W1M 9HD), Ponti's Italian Kitchen is determined to appeal to a broad base of customers, and serves food all day from 8am until 11pm. The menu spans all appetites; from cooked breakfast to afternoon tea and cakes, or late supper through to a great cocktail. Whilst the thrust of the menu remains true to Ponti's heritage and Italian roots, part of its evolution is in understanding that great classics should still remain. As a result, the Ponti's Italian Kitchen Burger and Chicken Caesar Salad are front runners on the menu, whilst other dishes have been given an unconventional twist; the Chicken Milanese is flavoured with sage butter and stone baked, hand rolled pizzas are sprinkled with parmesan. These dishes sit alongside a cross section of pastas and sharing plates, such as Prawn Linguini, Sourdough Bruschetta and Grilled Polenta, ensuring that customers experience a true flavour of Italy.
Having taken the reins from his father, Stefano continues to keep the business in the family. Closest childhood friend, Philip, works alongside him whilst the tasting panel is made up of a team including his Auntie Gabi. All of them have been bought up on great Italian cooking and understand that the best recipes are those handed down from generation to generation. With this in mind, 'Mamma Irene" – Stefano's longest standing school friend's mother – has consulted on all the cakes at Ponti's. Divulging her catalogue of family recipes has allowed Ponti's Italian Kitchen to offer the very best in cake making. From the sublime carrot cake through to the traditional orange polenta cake, Irene's cakes are a stand alone reason to visit the restaurant. Traditional Italian cured meats, such as Proscuitto di Parma and Salame Piacentino are all supplied by Ponti's friends from Emilia Romagna, ensuring quality control: The 18-month matured parmigiano is among the best!
Designed by Wells Mackereth and Mystery, the restaurants follow a stylish and comfortable, Sixties-inspired interior design: Banquette seats are interspersed with wooden chairs, all of which surround tables in varying shapes and sizes. Red walls adorned with pictures of Ponti's through the generations give a firm nod to the restaurant's heritage, whilst shelves selling a variety of oils, pastas and vinegars emphasise the restaurant's dedication to the very best Italian ingredients. Adding a touch of food theatre is the wood stone pizza oven where live flames add a sense of excitement to the restaurant, further emphasised via the open kitchen – a vital inclusion in any Italian home. A lively and entertaining space, successfully pulled together by a backdrop of contemporary music, Ponti's Italian Kitchen conveys all the best attributes of an Italian home – great fresh food, warmth and fun.
In chime with the current financial market, Ponti's Italian Kitchen embodies value for money executed in a friendly and welcoming way. Intent on offering people a true taste of Italy, a guest at Ponti's Italian Kitchen is perceived as part of the family and is guaranteed fresh food, wonderful service and great value for money.