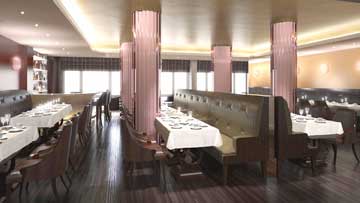 Mark Fuller of Concept Venues is to open a restaurant alongside his second hotel, Sanctum Soho London, which is scheduled to launch on Warwick Street at the end of March 2009.
Located on the ground floor of the 30-guestroom boutique property, No.20, whilst part of the hotel concept, will be a destination in its own right. Providing guests with a 24-hour room service, this 60-cover restaurant will be open to the public for breakfast, weekend brunch, lunch, afternoon tea and dinner. Serving British food, courtesy of Head Chef Gavin Austin, menus will emphasise seasonality and provenance with many ingredients sourced from small specialist producers.
Highlights will include starters such as crab and sweet corn chowder with brown crab toast; and salt cod cake with baby gem, tomato and chilli jam. Mains will feature dishes such as lamb cutlets with tarragon sauce; lemon sole with spinach and nut butter; and Burford Brown omlette with garden herbs. Desserts will range from treacle tart and clotted cream; to orange and grapefruit jelly with champagne sorbet. Dinner will have an average spend of £40 per head.
Gavin's previous experience includes Head Chef at The Pink Geranium in Cambridgeshire, consultant for Hard Days Night Hotel in Liverpool, and most recently Searcys St. Pancras Grand.
Interior architectural design is by Lesley Purcell of Can Do. With glazing along the front, classical lines are created by oak floors, timber veneer tables and Altfield old gold-rose wall coverings. Chairs are upholstered with glossy leather from Jason d'Souza, whilst Andrew Muirhead has lined banquettes with bronze gold leather. Statement pink ribbed columns complete the space.
Owner Mark Fuller comments: 'Sanctum Soho is the culmination of two years planning and an investment of just under £10 million. We are thrilled to be opening in such a vibrant part of London, and believe Sanctum Soho will be an enticing and unique offering, both in regards of the hotel and the restaurant, No.20. Having worked closely with Gavin, menus feature those guilty pleasures we all crave and some innovative treats that I know will have tongues wagging."
Opening hours:
Breakfast: Monday to Saturday, 6 am – 10.30 am. Sunday, 7 am – 10.30 am.
Lunch: Monday to Sunday, 12 noon – 2.30 pm. Sunday Brunch, 11 am – 3 pm.
Afternoon Tea: Monday to Saturday, 3 pm – 5 pm.
Dinner: Monday to Saturday, 6 pm – 11 pm. Sunday, 6 pm – 10 pm.
No.20, 20 Warwick Street, W1B 5ND