The Forge and Caponata, 3-7 Delancey Street, Camden Town.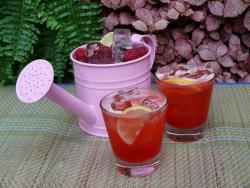 Authentic Sicilian restaurant Caponata and sister performance venue The Forge in Camden will be transforming their unique London space into an indoor musical garden for one day only on Wednesday 7th September from 9am – 4pm.
At the heart of this botanical pop-up is the Potting Shed Bar, where guests will be able to enjoy a range of expertly made cocktails, mixed with fresh herbs from the garden and infusions of seasonal fruit flavours. The bar's signature mix is served in a watering can and is made from a refreshing blend of gin, raspberries, lemon juice and Chambord.
Birdsong will be piped throughout the garden and gourmet bar snacks will be available in a selection of pots, with themed treats such as Edible Cobweb of Pistachio or Rose.
A beautiful vertical garden is housed in the courtyard, where traditional homemade lemonade and Pimms will be served on tartan blankets for the first ever weather-proof British picnic.
Pass through a grove of real lemon trees into a Sicilian Secret Garden in the adjoining Forge performance venue, and enjoy a spot of lunch by Caponata's Head Chef Vito Fanara as you listen to the live jazz music on the stage from 12-2pm.
If you are feeling adventurous, the Sicilian Secret Garden's Nardini Grappa Bar has a choice of exciting cocktails and shots featuring Italy's favourite national spirit, or be indulgent and order some authentic Sicilian Lemon Sorbet or a Cinnamon & Chocolate Cannolo.
For more information head to The Forge and Caponata website