Managing to manage your moolah and your munching? Congratulations. If you've been a successful scrimper you might even be ready to graduate to the advanced level of'gaining ridiculous returns for your meagre outgoings'. In this phase, socialising, along with some pretty good grub, can make a return to what's perhaps been a rather mean menu- as can the odd treat, provided you know where to get it…
Eating out
Reset your biorhythms
You are master of your appetite. And don't let that rumbling belly advise you otherwise. Adopt an eating pattern designed to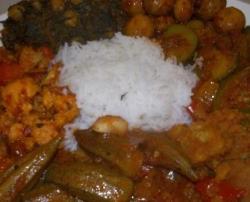 confound the average consumer, and avoid falling prey to the wily restaurateur's pricing policy. Save socialising for Mondays and Tuesdays, take advantage of pre- or post-theatre deals- who cares if you're not actually going?-, and eat for half the dinner price at lunchtime. Happy hour isn't just for binge drinkers- it can fill your tum a treat. Nab free snacks at an aperitivo or tapas place.
Free food and the feelgood factor
Food waste is an inescapable and inexcusable problem. FoodCycle and the People's Kitchen aim to tackle the involved issues with more emphasis on'enjoyment' and less'excruciating sanctimony'. FoodCycle holds sporadic roving pop-ups like the annual Trafalgar Square free-for-all. People's Kitchen, meanwhile, operates a weekly Sunday feast: turn up, eat up, wash up, then chill out with film screenings.'Multi-arts venue' Richmix often hosts community meals- just bring a dish and share the spoils.
Canteen in the community
Charity FoodCycle operates a sprinkling of volunteer-run cafes across London- selling sensibly-priced, simple dishes like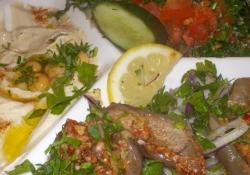 soups, sarnies and stews, all composed of perfectly edible foodstuffs that would otherwise be condemned. And there's cake. Very good cake. Community centres are handy; the Bengali Worker's Association near Euston offers a  homemade midday feast to eat in or take away for £3.50, and the Indian YMCA canteen is open to all at lunch and in the evening for a delicious, daily-changing deal.
Embrace the buffet
Not Pizza Hut- although that could be an option- but stranger, more quality options. On and around Oxford St are a few little Brazilian kiosks offering self-service feijoada and all the trimmings. They charge by weight, though, which can get pricey. Try to see what you're getting into first. Chinatown is a gamble, but spy a good'un and you're onto a winner. There's a London-wide vegan chain of colourful Eastern diners where the meat substitutes are shockingly realistic. And then, kings of them all, the stunning spreads at Indian veggie joints Diwana and Ravi Shankar.
Food in unexpected places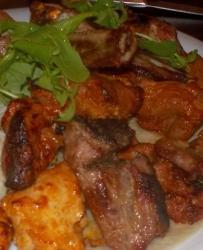 Like that chicken shop which best resembles an unsavoury anthill when the schoolkids swarm it at 3.30. Look beyond the gently suppurating doner, the gristly, grizzly hamburger, and chips more'waxen' than'flaxen', and, if you're lucky, discover a secret door into an ocakbasi delivering free salad, bread and dips with a rather lovely grill; hot cabinets filled with Sri Lankan mutton rolls; or tables of men mainlining £2 biryani and 4 fresh naan for £1. McDonalds poundsaver menu? I'll have a dal puri from my local Mauritian kebab joint, ta.
Luxuries
In-store samples and demos
Supermarkets are solid if unexceptional bets- slightly'senior' cheese, ham and pastry products are often hacked up and handed out willy-nilly on the deli, and big brands constantly send in persistent promo teams armed with samples. Your mantra?'Try before you don't buy'. Food halls and department stores put on occasional producer fairs and generous, quality cooking demos- check out Selfridges and the demo kitchen at Fortnum & Mason. And the odd truffle from Rococo or blob of Brie from Paxton & Whitfield makes life bearable.
Farmers' markets
Because you're not currently in the position to procure pampered pork or hand-harvested hempseed at the moment, you can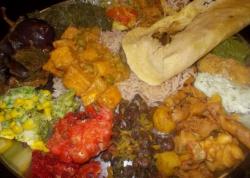 certainly take inspiration, joy, and a good few samples. Don't take liberties- hopefully you'll be back in fatter times to actually make a purchase. But there's no harm in having a hunk of Cheddar and a chat with the cheesemaker for future reference. It'll make the anticipation of actual buying all the sweeter. See the research as a bitesized-yet-balanced meal- a nugget of nougat here, a bit of baba ganoush there. Yum.
A few Lidl luxuries
There will be times when you just Really Want Something A Bit Posh. And with Lidl's luxury muesli, smart single-origin chocolate bars and rather nice rye bread all coming in under the £1 mark, you can enjoy the odd treat the deli'd have you to ransom for. Good, too, are olive oil, cured meats and Continental cheeses, although these may elude your wallet for now. Go at weekends, when a capsule collection of comestibles are slashed to half price or better. Aldi, Netto and their ilk are also worth a gander.