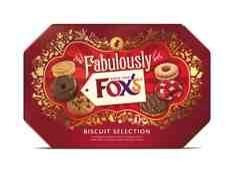 Are you one of surprisingly many who eschew the making of New Year's resolutions? Or someone who either doesn't need to lose weight or who does so by allowing for the occasional treat? Still happy to eat biscuits or chocolate even after the excesses of Christmas and New Year – or did you eat them in moderation and therefore now have some catching up to do?
That's good news because there are satisfying bargains to be had with many on offer – and surely a half-price biscuit must be only half the calories? Even if it is coated in chocolate?
If there is room for a bit more stretching in your stomach, and your mind, I can happily recommend the Fox's range. We've reviewed them before – often, I'm ashamed to admit – and here we are at it again.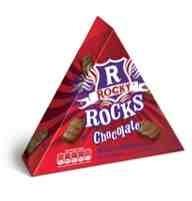 Rocky Rocks – mighty mouthfuls of chocolate biscuit – deliver a fulfilling amount of crunch and exactly the right proportion (ie generous) of chocolate coating. I detected a hint of malty-caramel in the biscuit that makes each mouthful multi-dimensional flavour-wise. Two bites and it's gone (pop it in whole if no one's looking) which makes it entirely acceptable as a treat-you-shouldn't-be-eating at this time of year. One a day – surely every diet can cope with that? (Look for a smallish red, pyramid-shaped box.)
More indulgent are the caramel rounds, a poshed-up version of millionaire's shortbread without the intense, lip-puckering side of the mouth sharp tingle of over-sweetness the less sophisticated version delivers. With a chunk bitten off, I can see a thin, glistening smear of caramel sandwiched between two circles of chocolate which, together, are roughly the same thickness as the shortcake biscuit. That's seriously milk-chocolatey. They are refined enough to grace the tea tray of a Jane Austen character, each round a symbol of modesty and temptation – but with a follow through of unexpected and complete satisfaction. With 12 in a box you'll wonder whether you should share them. I didn't.
The Fabulously Fox's biscuit selection in a tin offers nostalgia and contemporary excess. Custard cream, Jam'n cream, golden crunch cream, Viennese cream and bourbon cream and I'm right back in my childhood, rushing to the biscuit trays on speech day at school. The prettily foil wrapped milk chocolate orange shortcake sundae, the ambers original and the thickly-covered milk chocolate shortcake round are modern-day luxury. To be eaten in private.
There's more in the Fox's range, I'm afraid. Take whatever you choose slowly and the indulgence won't seem excessive. Will it?