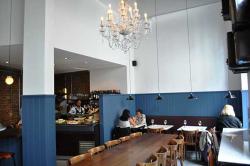 Opened eleven years ago as Canela Café by Suzanna Pascoal and Suki Lam in Covent Garden  Canela has been updated. Everything in Canela has been  sourced by its Portuguese and Brazilian owners from its 1950s light fittings and marble, to the speciality cheeses and rare, boutique local wines.
Having been refurbished and extended in to Shorts Gardens, Canela has also had a new room added. The result is an extra 30 covers, double aspect windows. The new interiors feature teal blue wood panelling, high ceilings and original marble topped tables. Retro features add quirky to classic
Canela uses produce sourced and imported directly from Portugal and the menu features  charcuterie, cheeses and wine from specialist regions around the country. Created by Susanna and Suki themselves, each dish at Canela has been developed from original recipes and family favourites.
The 44 cover restaurant is now situated over two streets, doubling up as a bustling deli by day and a wine bar and restaurant by night.
The menu is divided into small'Petisco' plates and platters alongside larger mains, salads and desserts. The star of Canela is its wine list with a wide range of high quality Portuguese wines, all of which are sold by the glass and all carefully selected from various regions and small vineyards by Susana.
Examples from the menu include:
Small Plates
ï'· Alheira Mini Burgers with quail eggs – £7
ï'· Squid Boat with chorizo, peppers, spiced tomatoes- £6
ï'· Liver In Port Wine Sauce with glazed red onions – £7
Large Plates & Platters
ï'· Creamy Black Rice With Prawns dressed in olive oil and fresh herbs – £11
ï'· Bacalhau à Bras traditional mix of salt cod, potatoes and eggs – £12
ï'· Pata Negra – £13
Desserts
ï'· 'Romeo & Juliet' goiabada and mascarpone – £5
ï'· Pudim Caramelo
Opening Hours
Mon – Sat 11:00 am to 11:00 pm Sun 11am-21:00pm
Canela
33 Earlham Street,
London
WC2H 9LS
T: 020 7240 6926