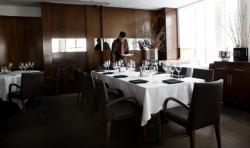 Following the recent launch of Giorgio Locatelli's latest book – 'Made in Sicily", the talented Michelin-starred chef will be starring in a new BBC 2 three-part series Sicily Unpacked. To celebrate the series, Refettorio, will be staging a themed three-week Sicilian promotion. Each week, to coincide with the programme a different menu will be available; highlighting the regions that Giorgio has visited. The first programme will be aired January 2012 on BBC2 at 9pm.
During the three-week promotion, Refettorio's head chef, Alessandro Bay, a former protégé of Locatelli, will be creating the special menu, with a collection of classic, yet contemporary dishes taken from the series. Each menu will run for one week, ensuring the promotion provides guests with an authentic take on what is perceived by many as one of the Mediterranean's most interesting cuisines, with its Arab, Spanish and Greek influences.
Joining Locatelli, art critic Andrew Graham-Dixon will accompany the chef to embark on a journey around the island, providing the viewer with an insight into the rich cultural heritage, from art and architecture to food and wine; landscape and literature to politics and religion.
The three-course Sicilian menu is priced at £25.00 per person and the promotion is available until 28 January 2012.Commenting; Paul Brackley, general manager, said, 'To create a promotion whereby we have the opportunity to run it alongside a BBC show is very exciting. We have a very loyal following of customers who love the style of cooking at Refettorio, so to give them the opportunity to sample the dishes will be completely novel for us!"
Refettorio, 19 New Bridge St London, EC4V 6DB, 020 7438 8052, www.refettorio.com